American Ambassador to the Republic of Korea Mark Lippert was attacked. On the 42-year-old Lippert was attacked by a man, in whose hands, according to some data, was a knife, on the other - a razor. The attacker attacked the US ambassador, threw him to the ground and struck several blows with a knife (razor) to the area of ​​the face and left hand, with which Lippert tried to close his face.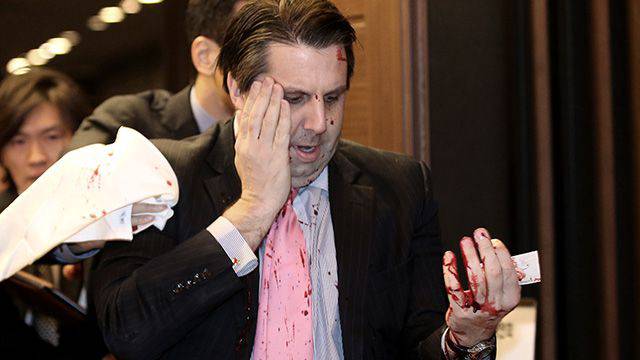 South Korean police were able to identify the assailant at the American ambassador. It turned out to be Kim Ki-joong - 55-year-old citizen of South Korea. He was detained at the scene of the crime.
The Ministry of Foreign Affairs of the Republic of Korea commented on the incident in Seoul as a "daring crime" directed against the union of the Republic of Korea and the United States, and announced that the reasons for the attack would be clarified soon. Reports about it
Echo of Moscow
.
The US State Department has commented on what happened. The Department of State condemned the attack on the American ambassador, and said that the attack could have been linked to the passing of US-South Korean military exercises and threats in this regard from Pyongyang.
Using the rhetoric of the United States itself, it can be stated that the attack on a diplomatic worker in the center of Seoul indicates an insufficient level of democracy in South Korea ...