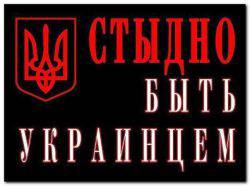 I am ashamed of the fact that I am Ukrainian
I am Ukrainian. I am 32 of the year. I am a family man. I have three higher education. Honors degree in Humanities. I work as a manager at a large and still successful industrial enterprise. From 32 years - 32 live in the Donbas. My city is a city of miner and combat glory! Leisure is dedicated to the family, world cinema, reading the classics of world literature. And how beautiful is Russian poetry: Tsvetaeva, Akhmatova, Akhmadulina, Vysotsky, Nekrasov, Yesenin ... I am interested
history
native land, and even more - his perspective. Until recently, I connected and identified my future and the future of my own region with Ukraine. Now there is no! There is no desire to associate your life with an increasingly degrading puppet poor public education. Arguments?
1) This country will never protect my family with an efficient army and does not guarantee a peaceful sky for my city.
2) This country has stupidly lost the Crimea and shamefully betrayed the citizens of Ukraine in the Crimea.
3) The dimensions of corruption are grand, all-consuming, ubiquitous, and already irreversible.
4) Ukraine has low-grade cultural heritage and "inheritance" (incompetent writers: there are no worthy literary classical and modern works, artists and composers tend to zero, poor cinema, everything is so miserable and has a pitiful appearance that you can't look without tears ... )
5) The achievements of Ukraine in the world of sports in the international arena are close to zero.
6) The anthem of Ukraine is poor, especially the words. Ukraine has not yet died ... but already in the blood and it stinks in some places. How could the words be approved to the Ukrainian anthem? You have to be crazy and to create it. It would be better if the anthem was without words at all!
7) There is no single Ukrainian nation, forming a monolithic, strong, united, at least viable state. West and East of Ukraine openly hate each other. The center wanted to spit on the regions and the periphery. Donbass sick of Ukraine and soon vomits. Transcarpathia dreams of separation from Ukraine. Crimean dreams have already come true. Lviv and Lugansk are farther apart than a pig from a hedgehog. Galicia and Donbass, Volyn and New Russia are antonyms. Every day the advertised "unity" of Ukraine is becoming more and more depressing.
8) All the presidents of Ukraine are scoundrels, to say the least. It would be better if they did not give birth to their mothers. Perhaps many countries suffer from inadequate rulers. In Ukraine, presidents with a retinue are selected, high-grade scum. The results of each can be confidently compared with the consequences of the atomic bombing of Hiroshima and Nagasaki. Especially already pleased recently crowned president of the Maidan. The promised world, in the spirit of its American friends, the leader of Ukraine carries bombs with which he fairly waters the cities of eastern Ukraine.
9) The basic law in this country, the constitution, is an empty sound and a profanation for ordinary citizens and the subject of empowering those in power to have an insatiable asshole. Nobody thought, why are they so eager for power? To the trough? All the "newly appeared" Maydanov muzzles were constantly in power. That, I apologize, sucked, licked, arrogantly arched before the authorities, getting the currency for it, and now they have become patriots, svidomi? It's funny ...
10) Ukraine is a vassal and protectorate of other states that rule world politics.
11) Ukraine is a commodity appendage of China.
12) Ukraine - raw materials, with a claim to agricultural, an appendage of the European Union.
13) Ukraine is a political appendage of the United States.
14) Ukraine is a territorial appendage of Russia.
15) Especially loving Ukraine, its citizens respect and honor the existence of national armed formations that benefit the fascists during the years of the Great Patriotic War: UPA, SS division Galicia. The actions of these gangs were convicted by the Nuremberg International Military Tribunal and found guilty of crimes against humanity.
16) Ukraine ranks first in Europe for: drug addiction, unemployment, child mortality, corruption, oncological diseases, tuberculosis ...
17) Ukraine occupies the last places in Europe by: standard of living, quality of medical care, energy efficiency of the economy ...
18) In Ukraine, all the authorities are completely corrupt, especially the courts, the police, the prosecutor's office. They take everything: from the ordinary lace to the general - the only question and the stumbling stone is not the principle "I don't take bribes, it hurts me for power", but the actual price of the issue and the size of the offering.
19) The system of higher education has been thoroughly eroded by corruption.
20) The real monetary unit of Ukraine is not a national currency, but the currency of the country of which Ukraine is a political appendage.
21) The state of Ukraine does not perform any functions in front of its citizens, except for one thing - regularly and without stint, it collects predatory taxes and extortions from citizens, which are subsequently unconsciously and opaquely spent on what. Ukraine collects taxes from citizens in order to subsequently buy bullets and bombs for the execution of these same citizens. Donbass works, despite the hostilities, taxes are deducted accordingly. They go to Kiev. Kiev is bombing the Donbass. Well, Ukraine is one !?
22) The genocide is being carried out in Ukraine: in 23, the "independence" of Ukrainians was less by 8 million (from 52 to 45 million)
23) Ukrainian medicine successfully treats only diarrhea, heartburn, flat feet, and several other diseases. Indians treat more.
24) Ukrainians are pathologically unable or unable to choose a decent power for themselves - moral freaks and scoundrels, scoundrels and rogues, verbiage and thieves, gay men, are all the time in power.
25) The only thing that can be proud of in Ukraine is the ability of people to gather and organize themselves into a rebellious mass, however, the result of which always becomes the statement mentioned in paragraph 24.
26) In Ukraine, the blood flows. In Ukraine, there is a civil war. Sons of Ukrainian mothers are dying. Died soldiers of the National Guard under the militia of Donbass. Mothers from all over Ukraine mourn their sons, young, beautiful, unique! At the same time, the power, which is "for the people," did not send to the war and did not bury a single child. These Ukrainians jackals are poisoning Ukrainians. In the Donbass terrorists, cattle, drunks, dirty miners, criminals, why stand on ceremony? All under the knife?
27) Ukraine, being a winner in the Great Patriotic War and having lost millions of its citizens during the Second World War, ceased, however, solemnly to celebrate the only heroic date in its history, sprinkled with the blood of millions of compatriots - 1945 Victory Day. For modern Ukraine, Victory Day is an empty sound. Since then, the name of the country "Ukraine" must be written in small letters.
28) On the national currency of Ukraine, the hryvnia, only mediocrity, traitors, mediocrity, and little-known persons are depicted. Ask your neighbor or friend who Hrushevsky is, what famous Mazepa is, what did he read from Lesya Ukrainka?
29) The work force of Ukraine is not working at CERN, but also in Western Europe, only on plantations, or at home in chemical plants.
30) With fatal regularity in all elections, crooks and puppets always win in Ukraine! Ukrainians are simply deaf, blind, blind, and before the elections, the aggressive democratic shock with convulsions falls into the national line and they just constantly get blunt.
31) There are no memorable state dates in Ukraine at all. The only thing that the population knows is when Chernobyl (Chernobyl) exploded.
32) Any national holiday is one part of the country notes, the other is not. Western Ukraine rejoices on Independence Day, oriental Ukrainians have goosebumps from this holiday. Eastern rejoices on Victory Day and still marks the canceled February 23 and November 1,2. On the day of the constitution they wanted to spit all over Ukraine. Finally, at least one thing that unites the whole of Ukraine.
33) Ukraine is not a full-fledged state. This entity has no clear state signs and attributes: there is no single territory, there is no single nation, there is no single authority. The territory is terribly divided and tends to separatism. Ukrainian nation is not formed. It is better to keep silent about the authorities: not recognized by the entire population, illegitimate, stupid and corrupt.
34) And here are some statistics. This is where Ukraine is today in the world:
- Social ratings: press freedom index in Ukraine - 131 place from 187;
- by the number of suicides - 8 from 106;
- for life expectancy - 120 from 191;
- for the proportion of prisoners - 25 from 215, etc .;
- Political ratings: democracy index - 67 from 167; global index of the world - 69 of 153, the insolvency index of the states - 110 of 177, etc .;
- Economic ratings: GDP per capita - 113 from 181, index of economic freedom - 164 from 179, competitiveness index - 89 from 139, business ease index - 145 from 183, etc.
35) In Ukraine, there are at least any national heroes of national scale. Is that Khmelnitsky. There is no one to set an instructive example to the younger generation. There are, of course, shabby heroes, but in one part of the country they are accepted almost by the Messiahs, in the other part by traitors, cheaters, murderers (Bandera, Shukhevych, Melnikov, Mazepa).
36) As far as insane is needed, to overthrow one pro-Russian puppet with criminal abilities, put a pro-American oligarch puppet on the throne of Kiev. How did the Ukrainians, who were hoarse for advocating for a reboot of power, for renewal, brought the president to power, who for many years had held the highest government posts with all anti-people governments? When Yanukovych was even the Minister of Economy. With all the presidents, the current business was successful, although the rest of the business screamed and lay on the shoulder blades. The newly appeared guarantor made billions under Yanukovych. Fair? Nonsense! Ukrainians, why are we so politically short-sighted and illiterate. We do not see beyond our own nose. It happens with enviable consistency.
37) All infrastructure in Ukraine, all industrial facilities, all housing and communal services are on the verge of a man-made disaster. Already just falling apart and exploding houses. It happens against the background of some endless empty political chatter, national demagogy, nationalist nonsense.
38) 90% of the housing stock of Ukraine, 80% of industrial capacity, 80% of infrastructure facilities created in the USSR. Ukraine has practically created nothing new. More than half of the above funds are in disrepair and created more than half a century ago.
39) The fraud in Ukraine has been elevated to the rank of government policy. This is manifested in all areas of life. Fraudsters head the ministries, universities, banks, courts, committees, funds, city councils, regional councils, write history books ... mass employment.
40) The hryvnia over 18 years of its existence has depreciated 7 times! What kind of confidence in the monetary unit and the country's banking system can we talk about?
41) Donbass residents pay taxes to the Kiev treasury. Do we have the right to expect that we will be addressed by the face, and not the backside. Why do our mothers in Russian maternity homes give young mothers brochures about breastfeeding and upbringing in the Ukrainian language? Why mock? Mom needs to solve a pressing issue, not translate texts. Since we have food in Ukraine, let us issue such brochures in Lviv in Russian without any alternative. Let them learn to love their homeland in this way.
42) Well this is necessary to think of, to rename the street Gagarin in the street heroes Maidan. What is Maidan and who is Gagarin? What is the scale? One needs to be seen through a microscope, the other has thrown humanity onto a new face. Through the years, Maidan is used and forgotten, like a drunken frenzy, like a riot of insanity and the triumph of narrow-mindedness.
43) State education of Ukraine does not bring any benefit to its citizens. Rather, conditions are created for extinction, degradation, emigration. People still live not because of the authorities, but contrary to their efforts. Sustainable caught. For my 32 of the year, I did not receive any help, support, even advice from this country. He paid for everything, he achieved everything himself, received nothing from the state, due to the constitution. Everything that I live and use is achieved by myself. And at home, roads, buildings and facilities, the entire state fund - even from the Soviet government. Maybe this is good? Then give me back all the taxes I paid!
44) Ukraine in its current format - a defective, thieves, clan-oligarchic state, gray, impoverished, corrupt, criminalized, incompetent, useless country without past, future and prospects, torn by nationalists, thieves and crooks.
45) Nothing else I want to write about this poor country. It would be desirable only one thing, so that peace soon came in the native land, and Ukraine ceased to exist, finally and irrevocably.
SLAVYANSK, ODESSA, KRAMATORSK, MARIUPOL, STANITSA, LUGANSK ...
I am ashamed of what I am Ukrainians !!!