Western newspapers have made a kind of competition for who will speak out more sophisticatedly about the murder of Boris Nemtsov. At the same time, versions of the reasons for the murder of the oppositionist and who is the perpetrator and customer of the crime are chosen as the main direction. British newspaper
Daily Telegraph
, occasionally distinguished by rich yellowness, informs his readers that Nemtsov was killed by some "Cossacks and defenders of Novorossiya".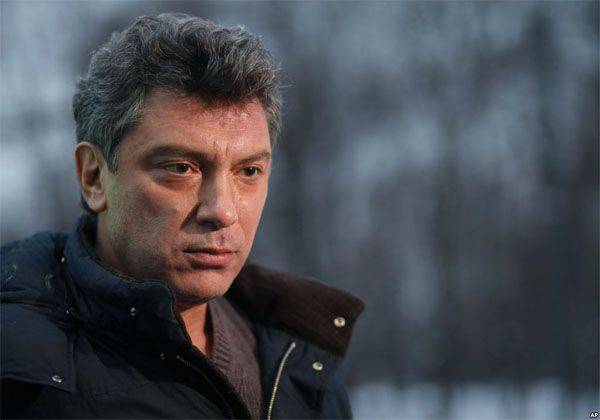 Daily Telegraph
:
Many observers have concluded that the murder under the windows of the Kremlin is a perverted version of Putin's selfie. He (Boris Nemtsov) embodied the features that they hated. Killing him makes any rapprochement between Putin and the West impossible.
As the saying goes, what was required to prove ... The very background of the crime scene made it clear that Western media would grab for it, because they know about Russia not from objective reports, but from the perepost of very specific notes on social networks and blogs. The West acts in its usual manner, naming the perpetrators even before the investigators and judicial authorities conduct their work. So it was with the tragedy of the flight MH-17, so it was with the shelling of Mariupol and Kramatorsk, and now. Method of stuffing does not change ...
It should be noted that the day before the President of Ukraine Poroshenko awarded Nemtsov the Order of Freedom posthumously. No matter how blasphemous it sounds, it is in this form - "posthumous" - that "friends of Russia" are now using Nemtsov to realize their goals.
Meanwhile, representatives of the Investigative Committee of the Russian Federation continue to investigate the murder of Nemtsov. The snowplow driver was questioned, which moved along the Bolshoy Moskvoretsky Bridge on the night of the murder. According to the investigation, based on the recording of video surveillance cameras, the murder occurred at a time when the snowplow was driving past a pair of Nemtsov-Duritskaya.
However, the driver said that he did not see the killer, since he "did not look around." This is reported by the TV channel
LifeNews
.