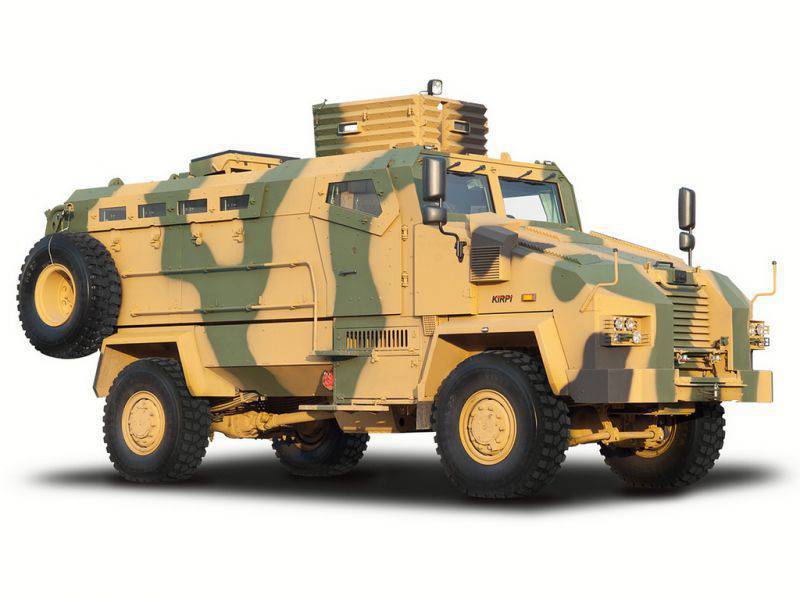 Production of Turkish Kirpi MRAP is increasing
After a pause, the Turkish company BMC Otomotiv Sanayi ve Ticaret resumed production of its machine with enhanced mine protection Kirpi 4x4 MRAP, which was shown at the IDEX 2015 exhibition with an installed remotely controlled combat module.
According to the results of the competition, the command of the ground forces of Turkey chose Kirpi to satisfy its need for the first MRAP vehicle. The initial contract was placed on 468 machines, but after manufacturing the 278 pieces, production was temporarily stopped. Manufacturing of machines has now resumed and the company said that "approximately 600 machines have already been supplied and they are currently being successfully operated."
Kirpi MRAP has been offered for export for several years now and Tunisia, which received about 40 machines, became the first buyer.
The Kirpi MRAP machine is distinguished by an all-welded single-volume body of armored steel with a V-shaped lower part, which provides a high level of protection from mines of improvised explosive devices, small
weapons
and shell splinters.
In an armored personnel carrier configuration, in addition to a crew of three, the Kirpi MRAP can accommodate up to 10 paratroopers. Standard equipment includes air conditioning and suspended seats with five-point seat belts that increase crew survivability.
Further work by the company led to the Kirpi 6x6 variant, which has many common components with the 4x4 serial machine, but a larger internal volume and carrying capacity and can perform a wide range of combat missions. The development of Kirpi 6x6 is completed, and after receiving orders, it can begin mass production.
BMC supplied approximately 5000 wheeled vehicles to the Turkish armed forces, including variants 2,5 tons and 5 tons (4x4), 10 tons (6x6) and 20 tons (8X8).
In addition to Kirpi 4x4 MRAP, the company presented its IDC 2015 tactical off-road truck BMC 380-26-P 6x6 weighing 10 tons with a cargo platform at the IDEX XNUMX exhibition; and this is just one of many options currently available to consumers.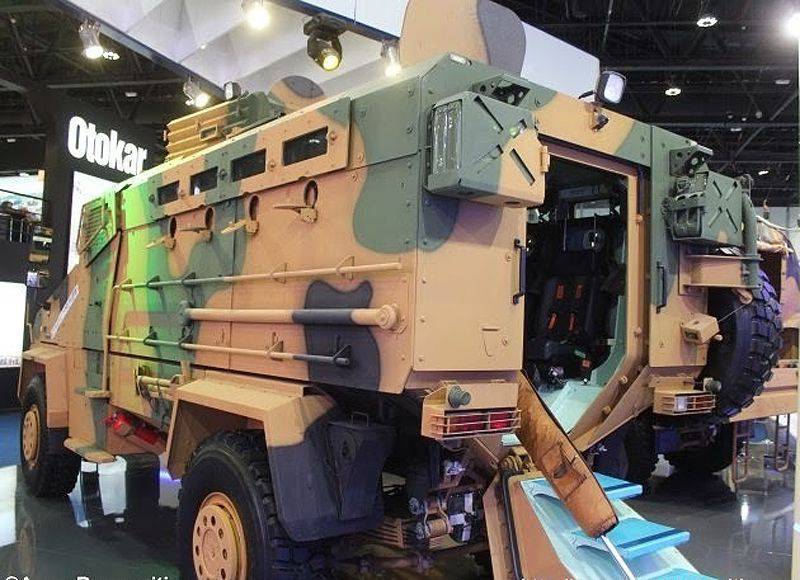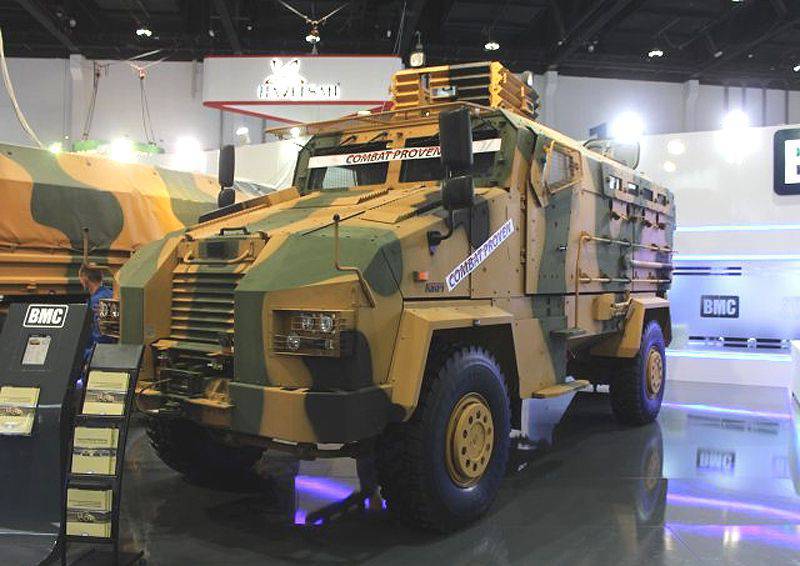 A BMC Kirpi (4x4) MRAP machine is fitted with a remote-controlled combat module, armed with an 12,7-mm machine gun
First Win. Armored excellence from Thailand

Chaiseri Defense, a leading Thai specialist in the field of military vehicles, has been engaged in the modernization and repair of armored vehicles for more than fifty years. Currently, the company has used its rich experience plus all the high-tech production capabilities to create the First Win 4x4 family of vehicles that meet the needs of many armies and security forces in an inexpensive but reliable vehicle.
In order to meet the various requirements of customers, First Win was conceived as a family of options with different levels of protection and mobility. The machine is easily configured for a variety of tasks of the army and security forces, for example, it can be a sanitary or reconnaissance option, a command post or an armored personnel carrier. Without any problems, the car can be transported by air, sea, rail or road. Various external armaments are installed on it, for example, 7,62-mm or 12,7-mm machine guns or 40-mm grenade launchers. Various internal layout schemes can be implemented, and with one driver, First Win can accept 10 infantrymen.
Protection of the crew and the assault is provided by an all-welded single-volume bearing V-shaped hull of armor steel. Not only the habitable compartment is protected, but also the engine compartment.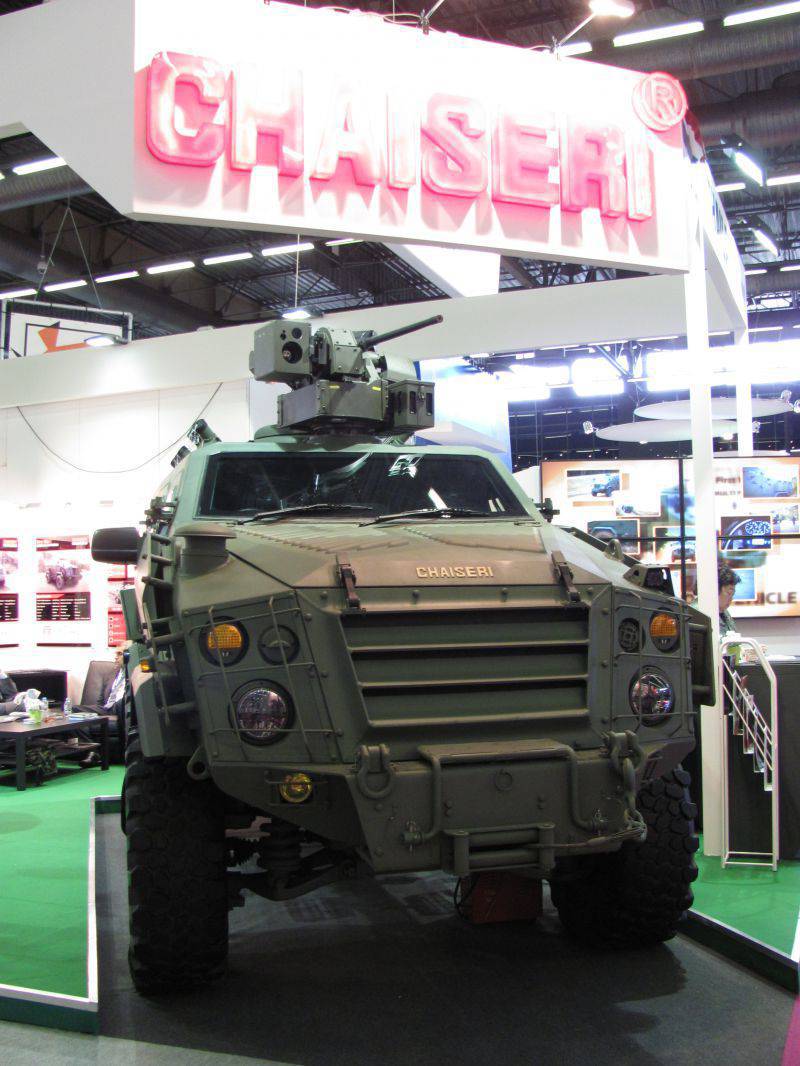 The First Win armored personnel carrier is equipped with a Cummins diesel engine rated at 300 hp; The machine has a high level of protection against mines and improvised explosive devices. As standard, the level of ballistic protection complies with the STANAG Level 2 standard, but it can optionally be raised to STANAG Level 3, while the machine has full mine protection corresponding to STANAG Level 3. This suggests that it can withstand an 8 kg of TNT exploding under the bottom and an 10 kg of TNT exploding under any wheel.
The first Win-E variant of a smaller size is equipped with an 250 horsepower engine. and independent suspension, which is optimized for dynamic reconnaissance operations. This option has a Level 2 anti-mine level of protection, but a slightly smaller mass compared to the standard First Win machine with a corresponding increase in mobility. Chaiseri also offers a lightweight version of First Win-L with an HP 200 engine. and standard protection corresponding to Level 1. Its main field of application is internal security forces, for which the threat of mines is not so relevant.
In the Thai army and the Ministry of the Interior, more than 30 First Win machines are already in service. Chaiseri currently offers its versatile and efficient vehicle for export, focusing on a high level of crew and landing protection and an affordable price.
Advanced version of the AMRAAM rocket
AMRAAM rocket fired from a NASAMS launcher. AMRAAM-ER will fly faster and farther
The company Raytheon Missile Systems said that it is developing a version of its advanced medium-range air-to-air missile Advanced Medium Range Air-to-Air Missile (AMRAAM), which will have an increased range. The goal of this development is to expand the coverage area of ​​the National Advanced Surface-to-Air Missile System (NASAMS) national advanced missile system. The first AMRAAM-ER test launch is scheduled for the end of 2015.
Designed specifically for ground-based air defense missions GBAD (ground-based air defense), the AMRAAM-ER rocket will have a new propeller, which will improve the kinematics, which will allow to intercept targets at large distances and high altitudes.
"The new rocket will fly at a greater speed, it will be more maneuverable compared to the current AMRAAM," said Mike Jarett, vice president of the air combat systems division at Raytheon. "Using many of the existing AMRAAM components, Raytheon can deliver AMRAAM-ER to the target quickly, at an affordable price and with very little risk."
Raytheon integrates an extended-range missile into a NASAMS launcher. NASAMS was developed in collaboration with Kongsberg Defense Systems. This is the GBAD range of the near and medium range, in which the AMRAAM ground launch missile is used as the actuating element. The NASAMS system was sold to seven customers, to date more than 70 launchers have been delivered. For more than a decade, the system has been in service with Norway, NASAMS is also deployed in the metropolitan district of Columbia, Spain, Finland, the Netherlands, and in another unnamed country. It is also manufactured in Oman under a contract issued last year.
The NASAMS complex includes a multifunctional information management system module that integrates various sensors and launchers. Targets are determined and monitored by a 3D high-resolution, sharp-beam radar. In order to obtain real-time complete information about the air situation, several radars and the corresponding fire control centers can be networked via a radio channel.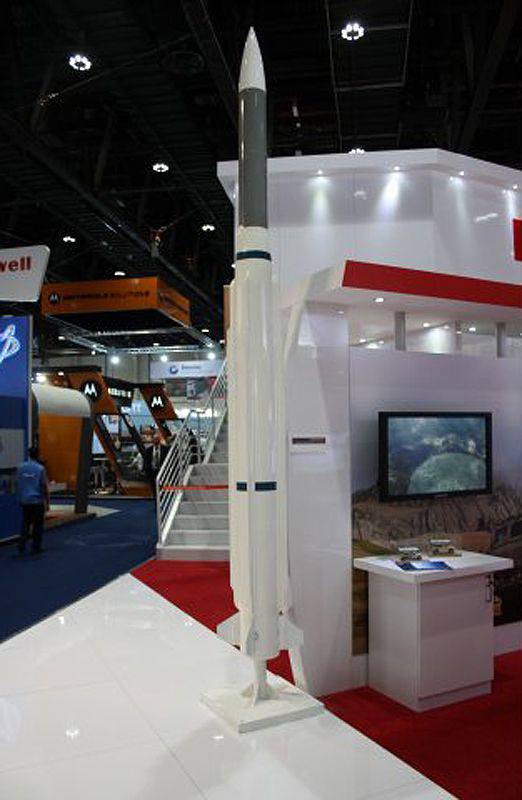 AMRAAM rocket at IDEX 2015
Precision Missiles from Korea
2015 Korean defense companies took part in the IDEX 22 exhibition. One of them, the company LIG Nex1, presented its line of rockets at one of the stands.
First of all, from the presented exhibits of this company, it is worth noting the Chiron ground-to-air rocket with an infrared homing head, which is in service with the Korean army and received the Korean national defense award in 2004 year. The rocket has a two-color homing head, which well distinguishes the target from modern infrared false targets. The small mass and compact dimensions of the rocket make it portable and quickly deployable.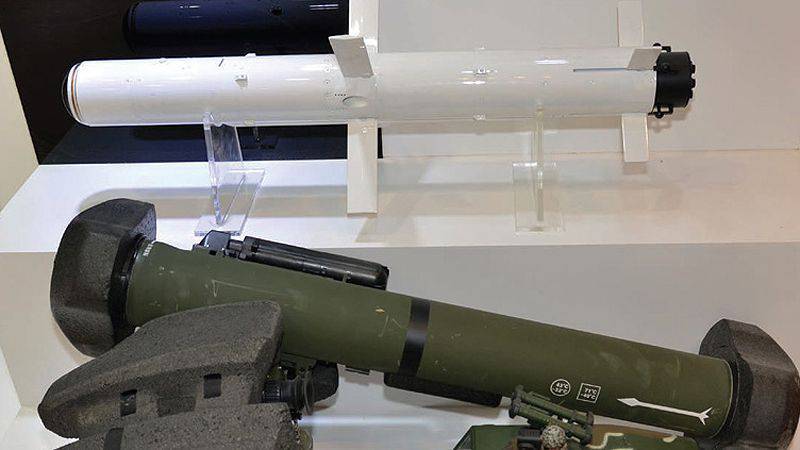 Shoulder antitank complex Raybolt
Also at the IDEX 2015, the Raybolt portable anti-tank guided missile was demonstrated. It is also quite compact and has a relatively small mass, which allows us to classify the complex in which it belongs to the portable class.
This weapon can be used in direct attack or attack from above, which allows you to direct it to the upper surfaces of armored vehicles that are most vulnerable. This rocket is smokeless, self-guided, which reduces the probability of detecting the operator and allows rocket launches inside the building.
LIG Nex1 also introduced a ground-to-air ground-based KM-SAM rocket and a new K-SAAM ground-to-air missile. Both vertical launch missiles, KM-SAM uses a radar guidance system. In K-SAAM, inertial guidance is used on the main course of the trajectory, and in the final part of the trajectory a dual microwave and infrared homing head operates.
The company also showed off its maritime perimeter security system, armed with Korean
fleet
. It uses a combination of distributed sensor elements: passive sensors for detecting targets in the external perimeter, magnetic and acoustic sensors for medium distances and active sonar, optoelectronic tracking equipment and radar for detecting threats inside the perimeter.
The executive director of LIG Nex1 announced the company's intention to expand its presence in the UAE market, which is of particular importance for the LIG Nex1.
Materials used:
www.janes.com
www.idexuae.ae