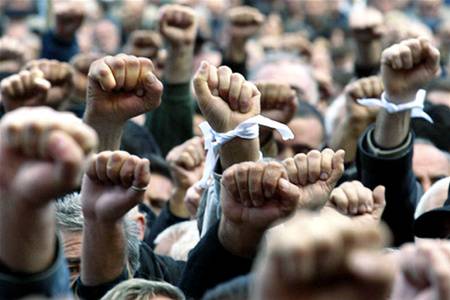 How much time is needed to turn from a national leader into a hated antihero in all? As shown, it takes less than two years.
Having come to power, Yanukovych not only did not improve the economic and cultural condition in Ukraine, on the contrary, aggravated him. Corruption under the current president has gained hitherto unprecedented momentum, there was even a special layer of corruption - the now ruling party of the regions.
If yesterday it was possible to say with confidence about the support of the East and the South of Ukraine, then today it is impossible to talk about it. The only thing that Yanukovych's team was capable of is an increase in the rating of ultranationalist parties. For example, in the native for the head of the state of Donetsk region, today's ultra-right nationalist rating comes to 4%, compared to 0,2% two years ago. Today, nationalists are campaigning, and if two years ago they were simply not taken seriously, now even in Donetsk, their words fall on fertile ground.
The economic policy of Ukraine over the past two years has plunged the country into a de facto new economic crisis and is threatening with social explosions. On September 20, the protesters against the abolition of benefits, the Afghans stormed the Verkhovna Rada, the deputies from the pro-presidential faction left the parliament building through the "black" exit. The detachments of the "Berkut" (OMON) were able to stop the crowd this time thanks to superiority in numbers and tear gas. But the protesters at the walls of parliament were no more than a thousand, and only a few hundred took part in the storming.
Clashes between the police and the people have become commonplace in Ukraine, and the advantage here is no longer on the side of the police. While the rally was only one thousand, the police were able to contain the crowd, but today businessmen and civil activists are organizing new meetings, and if yesterday's largest rally did not exceed ten thousand, then today it will be much more.
As president, Yanukovych managed to do what no other Ukrainian leader managed to do - to unite the East, the West, the North, the Center and the South against himself.