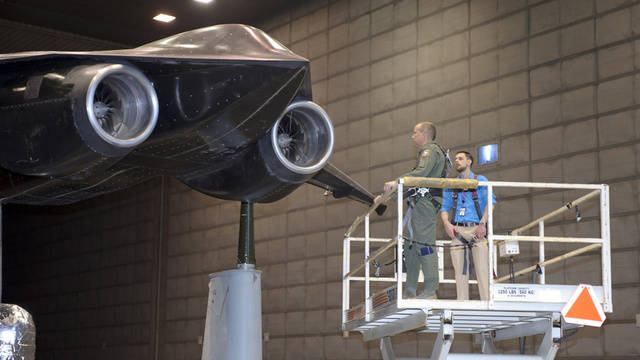 The American company Lockheed Martin has published photos of the prototype of the aircraft with a shortened landing and takeoff. When creating the Speed ​​Agile Concept Demonstrator aircraft, a new design was used, and it looks like a fantastic flying robot from the Hollywood blockbuster Terminator-3.
Representatives of the company said that the new aircraft could well replace the old tactical turboprop C-130 transport aircraft, which ultimately greatly expanded the capabilities of the US military due to its high speed and the ability to perform short take-off and landing using any level ground on the runway. terrain
At the moment, the model, whose size is 23% of the size of the future transporter, is undergoing the necessary tests in a wind tunnel in the engineering and technological center of the Arnold Air Force. The ability to take off from a short takeoff of a hybrid aircraft allows the use of Williams FJ-44 turbojet engines with 16 kN as well as special wing mechanics. The design of the Speed ​​Agile Concade Demonstrator combines the low aerodynamic drag of a glider with a fairly simple mechanical structure, which as a result reduces weight and improves flight performance.
The new US Air Force tactical transport will be able to steadily fly at extremely low speeds (about 130 km / h), which are necessary for short takeoff and landing, and at a transonic speed (more than 0,8 M), which is cruising for this aircraft. The aircraft with a carrying capacity of 30 tons can be operated in the presence of small platforms with a runway length of less than 600 meters.
In order to create a vertical thrust, the Lockheed Martin air vehicle uses a unique technology that has never been used anywhere before - the engine nozzles are located directly above the wing surface, and the installed special flaps direct the outgoing jet of gases from the jet engine downwards.
As expected, tactical high-speed transport with shortened take-off and landing can significantly change the tactics of the use of troops at a distance from the main base and allow for the rapid deployment of large units, including the possibility of redeploying units to the rear of the enemy. Currently, this task is performed by vulnerable and low-speed helicopters, from which the US military is not enthusiastic because of the high risk of being shot down. Aircraft Speed ​​Agile will be able to deliver military units to the battlefield at high transonic speed and high altitude, landing on unequipped platforms.