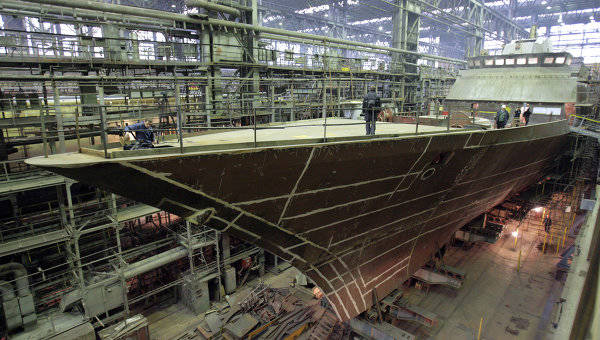 Shipbuilding Plant Severnaya Verf OJSC, a member of the United Industrial Corporation (DIC), has received guarantees from the Russian government for a total of several tens of billion rubles. to carry out the state defense order.
Reports about it «RIA
News
"With reference to the press service of the company.
The corresponding government order N1575-p from 8 September 2011 was signed by Prime Minister Vladimir Putin. According to this document, state guarantees are provided until the end of 2015.
"The provision of state guarantees for the Severnaya Verf means the beginning of stable financing and the serial construction of ships for the Russian Navy," said Andrey Fomichev, the company's general director.
According to RIA Novosti, under GV-2020, Severnaya Verf before the 2018 must hand over to the Ministry of Defense of the Russian Federation a series of six corvettes of the 23180 and 23185 projects (upgraded 23180 project) and a series of six 2020 frigates of the year. Now, four corvettes of the 22350 project, two frigates of the 20380 project and a special communications vessel of the 22350 project for the Russian Navy are being built at the Severnaya Verf.