Production of AK-103 machines in Venezuela will begin in 2012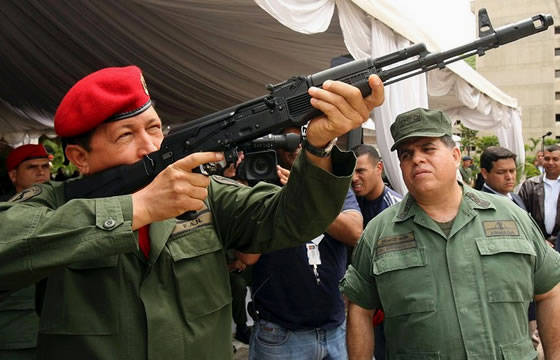 The licensed production of the export version of the AK-103 machine in Venezuela will begin in 2012. About this, as reported by Infodifensa, said in Caracas, the Ambassador of the Russian Federation in Venezuela, Vladimir Zaemsky.
As the diplomat informed, the project is progressing within the agreed schedule. Almost all the process equipment has already been delivered. There are some delays in construction work, but their causes are problems that any company performing work in a foreign country would face, as well as the difficult climatic conditions of the past year and the rationing of electricity in Venezuela.
With good luck, construction work is planned to be completed at the end of the current or early next year, which will allow the installation of process equipment to start and the production of automatic machines in 2012 to start. The Ambassador stressed that the production technology of AK-103 will be transferred to Venezuela.
In May 2005, Venezuela acquired 100 thousand AK-103 / AK-104 machines to equip the national Armed Forces. The contract also included the supply of 74 million 7,62xXNNUMX mm cartridges, stores, bayonets, spare parts, technical manuals and 39 simulators for shooting training.
Later, in 2006, an agreement was signed for the construction in Venezuela of enterprises for the production of AK-103 / AK-104 assault rifles and ammunition of 7,62xXNNXX mm. Both plants are built on the territory of the Venezuelan state-owned company CAVIM (Compania Anonima Venezolana de Industrias Militares - Defense Industry Joint Stock Company) in Maracay (Aragua pieces). Earlier it was reported that more than 39 people will be employed in production.
Ctrl Enter
Noticed a mistake Highlight text and press. Ctrl + Enter