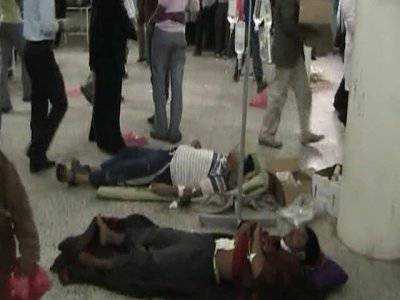 The Russian Foreign Ministry urged to refrain from traveling to Yemen. There riots broke out with new force. In two days, more than 50 people died in the country, about a thousand were injured. That night, the government army of Yemen and the opposition troops agreed on the non-use of force.
About a hundred thousand demonstrators took to the streets of relatively calm in the last months of Yemen. However, far from everywhere the protests were peaceful. In some areas of the capital, protesters threw security forces with Molotov cocktails. In response, the authorities opened fire.
Reuter reported that snipers were seen on the roofs of houses. At least 50 people died. Among them are demonstrators and police. There are children. More than a thousand injured.
"The problem is that all hospitals are clogged up - there are not enough places either in the operating rooms or in the wards. There are also not enough drugs and even dressing material - because of the disturbances they cannot be delivered," says Dr. Tarek Numan.
The government of Yemen said that the police and military are fighting with armed Islamists - representatives of the tribes that have long been in conflict with the current regime. About the clashes promised to conduct an investigation.
A spokesman for Saleh added that it is very difficult to maintain security and calm in a country where most of the population is armed.
The Russian Foreign Ministry reports that the Russians were not injured during the riots. But the department advised to refrain from traveling to a troubled region. And expressed concern about the events in Yemen.
"Yemen's society urgently needs a broad dialogue of all influential political forces, so we would like to reiterate our call for the early launch of such a dialogue without any preconditions. I would like to repeat the recommendation to Russian citizens to refrain from any trips to Yemen," said a spokesman. Russian Foreign Ministry Alexander Lukashevich.
This outbreak of violence has disturbed the countries participating in the peace process.
"I am very concerned about the situation in Yemen at the moment. We urge all parties to the conflict to stop the violence and return to the peace process of the transfer of power, as was intended earlier. The UK, in turn, is going to continue to participate in this process," said the head British Foreign Office William Hague.
Anti-government demonstrations in this Arab country began in January of this year. And in June, President Ali Abdullah Saleh was seriously injured during rebel shelling of his residence and is currently undergoing treatment in Saudi Arabia.