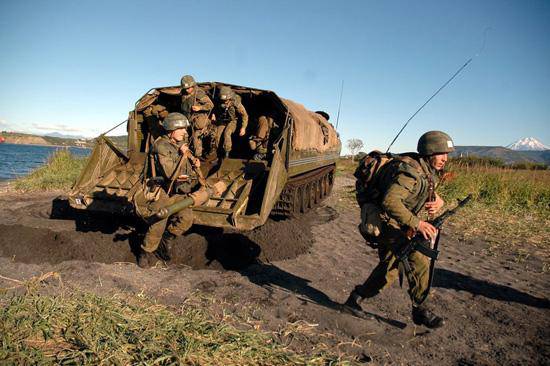 The practical stage of the bilateral command and staff exercises of the Pacific
fleet
on landing marine corps on an unequipped coast ended on September 13 in the area of ​​Avacha Bay near Petropavlovsk-Kamchatsky.
As the RIA PrimaMedia was told in the temporary press center of the BBO, after completing the many-day sea crossing from Primorye to Kamchatka, the marines were given the task of winning a bridgehead on the seashore from the "enemy".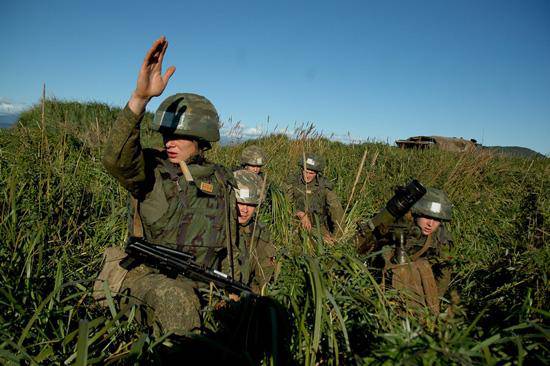 "Apart from the long maritime transition, the landing on an unfamiliar coast was a special feature of this landing. In total, more than 40 units of military equipment and more than 600 military personnel of the formation took part in the maneuvers," said the commander of the Black Berets Brigade, Colonel Igor Bushmin.
According to the classical scheme, paratroopers in the number of 130 people were dropped into the rear of the enemy. Simultaneously hit the coast with all kinds
weapons
ship shock group. Then, the stripping groups in Mi-8 combat helicopters and special units of high-speed scout reconnaissance teams entered the mission. And in the final, the main strike force entered the battle - air assault companies on military equipment.
The head of the exercise, Major-General Sergei Pushkin, noted a good training and "enemy", the role of which was performed by marines from the Kamchatka compound. According to him, the rivalry between the coastal and Kamchatka military men is only for their benefit, increasing the training of personnel.
The final phase was the battle in the offensive, with live firing from all types of weapons at the Rodygino military training range, to which the marines made a three-hour march.