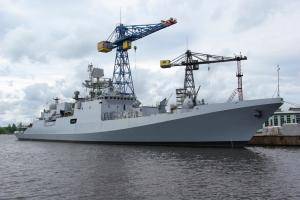 The contract for the supply of the second three frigates of the 11356 project was signed on Tuesday by representatives of the United Shipbuilding Corporation (USC) and the Ministry of Defense in the framework of the state defense order for the current year, said Alexey Kravchenko, an official representative of USC, on Wednesday.
Ships planned to be delivered
the fleet
in 2015–2016, "Kravchenko specified, without informing the amount of the contract.
The contract for the first three frigates of the 11356 project was signed on August 29 by the Ministry of Defense and the Baltic shipbuilding plant "Yantar" (included in USC), ITAR-TASS reports.
The 11356 frigate is designed to conduct combat operations in ocean and sea areas, search for and destroy enemy submarines, carry out anti-ship, air defense and anti-submarine defense of warships and ships at sea, attack ships and ships, and support landing amphibious assault forces. The displacement of the 11356 project ships is 3 thousand 910 tons, length - 124,8 m, width - 15,2 m.