Continued
история
which is related to the presence of Ksenia Sobchak, the "Dozhd" TV host, as a guest on the "List of Norkin" TV show, who said that she would never again go on the air of the central TV channels, since they were spreading "propaganda". The incident occurred after Sobchak on the air said that regular Russian troops were fighting in the Donbass, and the residents of Donbass replied that Sobchak was lying. It got on that scandalous air from Sobchak to the war correspondents of "Komsomolskaya Pravda" Dmitry Steshin and Alexander Kotsu. Sobchak said that "KP" journalists cannot be trusted, since at the press conferences they "ask lizoblyudskie questions to Putin."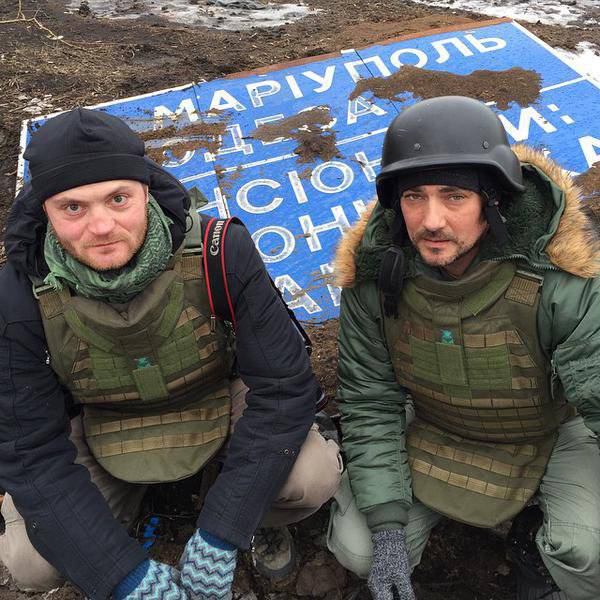 Dmitry and Alexander
responded
Ms. Sobchak (in absentia) as follows:
We were convinced by our colleagues that it was imperative to urgently give way to an insolent Ksenia Sobchak an angry rebuke. Directly from the front of her to write - a chemical pencil on the box from suhpayka. We could not.

We have nothing to say Ksenia Sobchak, but we can show her everything. On average, 15 airplanes fly from Moscow to Rostov-on-Don per day. From Rostov to the Uspenk border crossing - two hours by taxi for just 50 dollars. And at the border, we will meet you in your car. We will take you to cities and districts that are bombarded around the clock for many months. We will be silent, people will tell you everything and show you.
And here are the very comments that Ms. Sobchak made after the air on Twitter.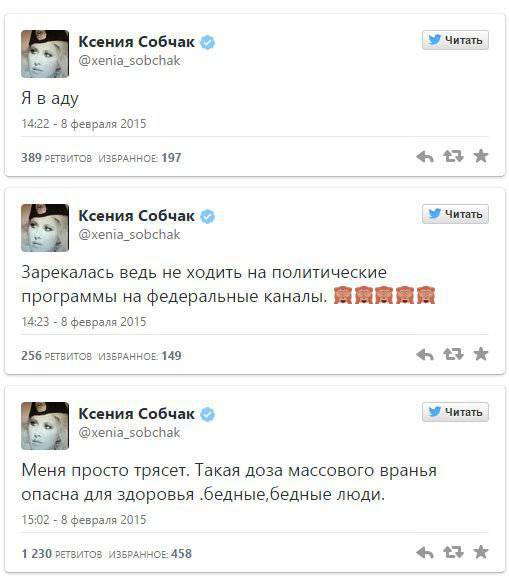 Comments Ms. Sobchak appreciated by a psychologist. According to the psychologist, the reaction of Sobchak to the eyewitness accounts of the tragedy in the Donbass is very similar to the reaction of the possessed person who was brought to church to try to exorcise the unclean. NTV, of course, is not a church, and therefore an unclean person who does not allow Xenia to openly face the truth, could not be expelled ...