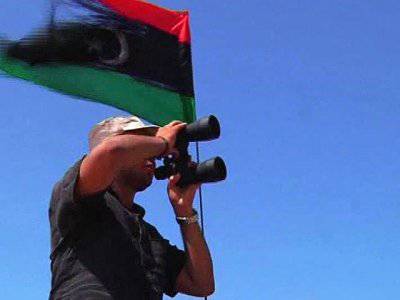 The troops of the Libyan Transitional National Council are attacking Sirte, the hometown of Muammar Gaddafi, one of the last strongholds of his supporters. Significant forces were thrown at the assault, which were met with resistance - rocket fire and sniper shots. The results of the attack received conflicting data.
The last frames before the attack. The fighters of the Transitional National Council pray, sit in cars and go to Sirte - the hometown of Muammar Gaddafi. But here is what comes next, receives very conflicting information. According to the PNS, their people came to the city from several directions - hundreds of armed people supported by 900 pieces of equipment. These were, of course, mainly bulldozers and machine gun pickups, but there were
Tanks
.
Air strikes from the city
aviation
NATO. Gaddafi's opponents painted their equipment in bright red and yellow colors, so as not to fall under the Allied bombs. The fighting took place at the television center, airport, administrative buildings, there were even reports that Sirte was captured, Gaddafi's troops were defeated, his son was trapped, and the official representative of Musa Ibrahim was destroyed.
But then there was silence, for several hours no
News
. Only an Al-Jazeera correspondent writes on his blog that PNS supporters retreated when they met fierce resistance and lost at least 14 people. It is said that the attack on Sirte was only a tactical move.
Then they began to receive reports of an attack on another city - Sabha. In his neighborhood, Gaddafi supporters set fire to a warehouse with ammunition and
weapons
so that it does not go to the enemy. All this was kept in an old Italian fortress. According to eyewitnesses, the fragments of shells flew hundreds of meters. "There were anti-aircraft guns, heavy shells, rockets, and it all burned and exploded. People fled in panic from their homes into the desert," said Milade Omar, a resident of the village of Shueref.
However, Muammar Gaddafi himself, as his opponents believe, must be sought not in Sirte and not in Sabha, but in Bani Walid. It is possible that this city will be the next, a new assault attempt may begin in the next day.
It's still a long way to complete victory, and this was talked about on the eve in Benghazi, where European leaders David Cameron and Nicolas Sarkozy arrived, who from the very beginning supported the opponents of Muammar Gaddafi. At a meeting with representatives of the Transitional National Council, they talked about humanitarian aid, about restoring the country, but also in Libya and in Europe they perfectly understand that the French and the British are not only interested in this. British Petroleum, Total and Italian ENI under the new Libyan authorities are claiming lucrative oil contracts.