Ukrspetsexport can supply armored vehicles to Russia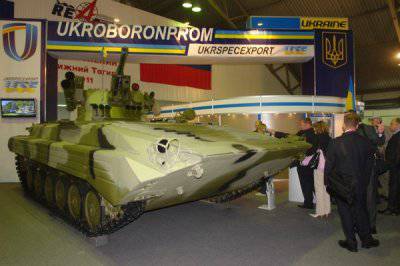 Ukraine is preparing to sign a contract for the supply of armored vehicles to Russia.
According to Interfax-AVN, with reference to Konstantin Lunev, the head of the Ukrainian delegation of the state company Ukrspetsexport at the VIII International Exhibition of military equipment and weapons, which was held in Nizhny Tagil, it is too early to talk about the number of vehicles supplied.
"Yes, we are preparing to sign a contract with Russia in the field of armored vehicles. It's too early to speak about the type of combat vehicles and their number," said Lunev.
He noted that representatives of Russia's top military leadership, including Army Chief of Staff General Nikolai Makarov, First Deputy Defense Minister Alexander Sukhorukov, Deputy Defense Minister General of the Army Dmitry Bulgakov, familiarized themselves with the exposition of Ukrainian armored vehicles that was presented at the exhibition in Nizhny Tagil. .
First of all, the Russian military leaders were interested in the infantry fighting vehicle BMP-1M with the Squall combat module.
September 9 reported that Russian Prime Minister Vladimir Putin visited the Ukrainian stand at the 8 International Arms, Military Equipment and Ammunition Exhibition, the Russian Arms Exhibition. Nizhny Tagil - 2011. The head of the Russian government was presented with the unique for its class technical characteristics of the new Ukrainian tank engine 5ТДФМ, developed by the Kharkiv Engine Design Bureau of Kharkov. Morozova (KMDB).
Ctrl Enter
Noticed a mistake Highlight text and press. Ctrl + Enter