In the United States, there is a heated discussion on the possibility of sending an American "lethal" to Ukraine
weapons
. Many representatives of the US legislature speak in favor of the commencement of such supplies, but there is a contrary opinion in Congress. After analyzing the situation with military aid from Canada "dissolved" on the territory of Ukraine, Congressman Chris Van Hollen said that there is no point in starting deliveries of American "lethal" weapons to Ukrainian security forces.
In an interview with MSNBC TV channel, Holen Holen, arguing on the question of the possible supply of American weapons to Ukraine (translation
InoTV
):
I support the idea of ​​providing Ukrainian troops with additional equipment, but, speaking of lethal weapons, I believe that there is a downside to the medal: equipping a lethal assignment will not do any good if it turns out in the hands of people who are not trained to use it. Therefore, I believe that there must be some kind of mechanism to ensure improvement in the level of training of the Ukrainian army.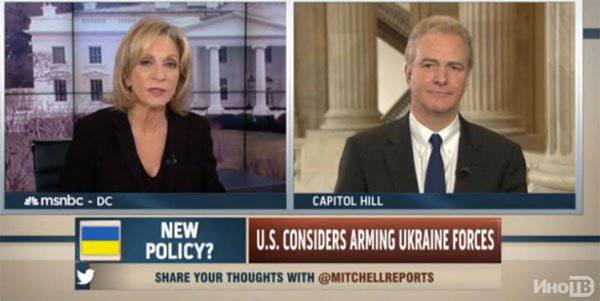 A spokesman for the US Congress states that there is a high probability in Ukraine that a weapon can be stolen, falling into the hands of people who do not know how to handle it.
Recall that the Ukrainian side calls on the United States and other NATO countries to urgently start delivering "lethal" weapons to Kiev, saying that if the Ukrainian army had, for example, Javelins (American portable anti-tank systems), the "peremoga" had long been would be celebrated. As can be seen, representatives of the American legislative body have an alternative opinion on this matter. Apparently, Chris van Hollen still does not finish. After all, given the level of training of Ukrainian military and mobilized, American weapons may be in the hands of the militia, and this is a completely different
история
...