Turkey is ready to launch an invasion of Iraq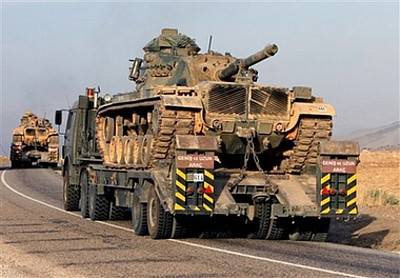 The Turkish army is ready to invade the northern provinces of Iraq at any time, Lenta.ru reports on Tuesday, September 13.
The corresponding statement was made by the Minister of Internal Affairs of Turkey Idris Naim Sahin. According to him, for several days now, artillery and aviation have been delivering massive blows to the positions of Kurdish militants who have dug in in the poorly controlled northern provinces of Iraq. "A ground operation can begin at any time," said the Minister.
At the same time, Sahin noted that the final decision will be made after consultations with Iraqi officials.
During the talks, representatives of Ankara will try to convince Baghdad that the defeat of the bases of Kurdish militants will benefit not only Turkey, but also Iraq itself. However, even if the Iraqi government does not agree, it will have little effect on the situation.
According to Turkish observers, the operation may begin even before the return of Prime Minister Recep Erdogan from Egypt.
Ctrl Enter
Noticed a mistake Highlight text and press. Ctrl + Enter