A spokesman for the Air Force's Colonel Igor Klimov's press service and information at the Russian Defense Ministry said that two Russian strategic bomber had made an 19 hour flight over the neutral waters of the North Atlantic with two air refueling stations.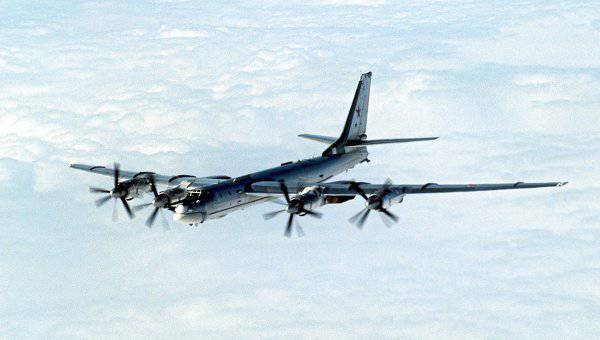 According to him, in certain sections of the route, Russian vehicles were accompanied by Typhoon interceptor fighters of the British Air Force, F-16 - Norway and Mirage - France.
"Two strategic bombers Tu-95MS ... successfully completed the tasks of the air patrol plan. The flight route passed through neutral waters in the area of ​​the Barents and Norwegian Seas, the Atlantic Ocean. The flight duration was more than 19 hours ", - RIA quotes Klimov
"News"
.
The colonel stressed that the flight took place in strict accordance with international rules for the use of airspace over neutral waters, the borders of other states were not violated.
Earlier, Russian Defense Minister Sergei Shoigu stated that the Russian long-range
aviation
It will continue flights along the Russian borders and over the water area of ​​the Arctic Ocean, and will also provide a military presence in the western Atlantic and in the eastern Pacific.