Ukraine introduced a new tank engine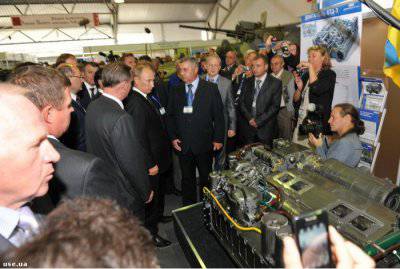 Ukraine presented at the VIII International Exhibition of Armament, Military Equipment and Ammunition in Nizhny Tagil (RF) dimensional layout of the new engine 5TDFM. Experts recognized him as the best in the world in its class.
As the press service of the state-owned company Ukrspetsexport, which together with the Ukroboronprom Group of Companies represents Ukraine at this forum, said, "the exposition of our country is characterized by a high level of attendance and expert interest." In particular, the leaders of the Ukrainian delegation held talks with Deputy Minister of Defense of the Russian Federation Dmitry Bulgakov on cooperation in the armored industry.
The 5TDFM engine was developed by specialists of the State-owned Enterprise Kharkiv Engine Design Bureau. It has the highest overall power among existing engines for armored vehicles and can be operated in any climatic conditions (up to + 55 ° C). Now 5TDFM is being prepared for mass production, and it can be expected that armored vehicles based on it will be in great demand in countries of Asia and Africa with harsh climatic conditions.
The technical characteristics of the new engine were also presented to Russian Prime Minister Vladimir Putin, who praised the new Ukrainian development, noting that it was "promising."
The head of the state concern "Ukroboronprom" Dmitry Salamatin has no doubt that the potential of the defense-industrial complex of Ukraine in the field of armored vehicle construction will be in demand in the global arms market.
"The high assessment given by Ukrainian military equipment to Russian Prime Minister Vladimir Putin and the top military leadership of Russia confirms the strong intellectual, scientific, technical and production potential of the Ukrainian military-industrial complex capable of creating products competitive on world arms markets," the head of the state concern said Friday international defense exhibition held in Nizhny Tagil.
The Ukrainian stand also demonstrates full-scale samples of the infantry fighting vehicle BMP-1М with the Squall combat module and the T-72B tank.
Tank T-72B clearly demonstrated the capabilities and prospects of the Ukrainian industry in the repair and modernization of armored vehicles. This area is in great demand in the world, and experts highly appreciate the chances of Ukraine to get lucrative orders for the modernization of armored vehicles. First of all, we are talking about countries that are armed with a large number of Soviet-made vehicles.
Ctrl Enter
Noticed a mistake Highlight text and press. Ctrl + Enter