T-90MS not yet satisfied with the General Staff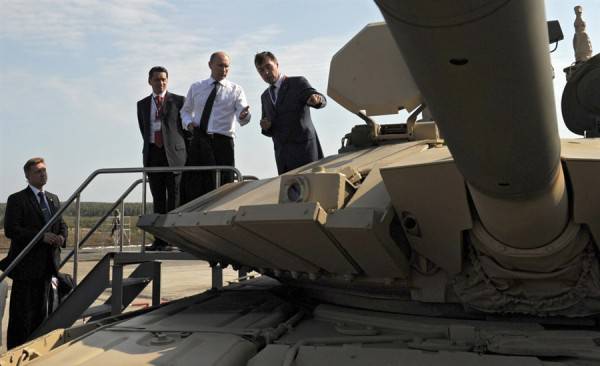 The latest development of the Russian military industry - the T-90C, which was to become the main battle tank, was recently inspected by Prime Minister Vladimir Putin. It was also provided to the general public in Nizhny Tagil, where the exhibition was held. And this tank caused a lot of questions from the leadership of the Ministry of Defense of the Russian Federation.
Nikolay Makarov, chief of the general staff of the RF Armed Forces, reported this. He also said that a very high-quality tank turret completely suits the military. Makarov said that the tower draws considerable respect from domestic experts - it is not only not inferior to the best analogues in the whole world, but also surpasses them in some characteristics. However, Makarov believes that the tank system itself and some nodes have flaws. He argues that in general T-90C has a lot of flaws that are to be fixed in the near future. That is what all development work will be directed to.
It should be recalled that last week Vladimir Putin visited the arms exhibition, which was held in Nizhny Tagil, where he got acquainted with the T-90С. Climbing into the tower, he carefully studied the controls of the tank. Representatives of Uralvagonzavod, where the tank is manufactured, told the prime minister that the tank's weapons are guided missiles capable of hitting the enemy at a distance of five kilometers. The mass of the T-90C is 46,5 tons. The engine power is a thousand horsepower. Crew - three people. On the highway, it can reach speeds of up to 60 kilometers per hour. The tank is equipped with a smooth-bore gun caliber 125 millimeters. She is able to shoot rockets and shells at a distance of up to five kilometers. The missiles are guided by a laser sight. Also, the tank is equipped with a night thermal sight. In addition to the main armament, the tank is equipped with a 7,62 caliber millimeter machine gun paired with a cannon, as well as a millimeter 12,7 anti-aircraft machine gun mounted on the turret. Universal dynamic protection reliably protects the tank and its crew. The opto-electronic suppression complex perfectly complements this protection. For the comfort of the crew tank body is equipped with air conditioning.
It should be recalled that representatives of the Ministry of Defense have already criticized modern Russian armored vehicles. So, Alexander Postnikov, commander-in-chief of the Russian armed forces, said that modern armored vehicles in Russia are noticeably inferior in terms of characteristics to their counterparts, which are used by NATO countries. Colonel-General A.Postnikov reported that the modern T-90 tank is a modification of the T-72, and its value is 118 million rubles. He believes that three Leopards could be bought with this money.
However, the Minister of Defense Serdyukov said that the Russian army would not buy foreign equipment.
Ctrl Enter
Noticed a mistake Highlight text and press. Ctrl + Enter