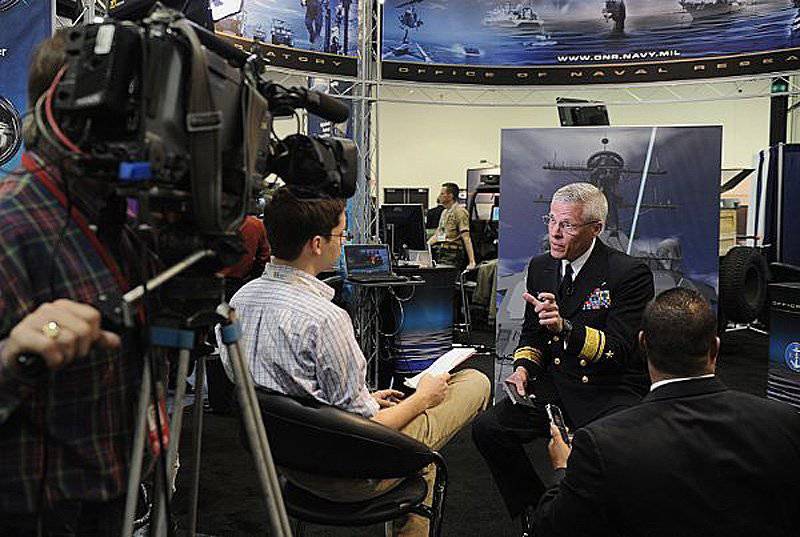 In one of the interviews, the head of the US Naval Research Directorate, Rear Admiral Matthew Klander, touched the solid-state laser and Admiral Jonathan Greenert's statement that such a laser would be installed on board a warship in 2014. "Our initiatives in the field of directed energy and especially solid-state laser are the scientific and technological programs of the highest priority," said Klander. "The solid-state laser program is the basis of our commitment to the fast delivery of advanced capabilities to advanced forces."
In the last decades of the 20 century, supporters weapons directed energy (ONE) promised that lasers and high-power energy weapons revolutionize combat. In many respects, this promise has become a reality in a different form, as thousands of small lasers filled the arsenals of modern armed forces. These lasers, however, are basically either distance measuring devices that increase the capabilities and effectiveness of kinetic weapons, or blinding devices that disable enemy optics. However, recent developments indicate that the possibilities of ONE are becoming more and more real.
Lasers, phasers, blasters and electromagnetic guns firmly entered our lexicon, as they are part of the canonical weapons from the world of science fiction, but the real problems associated with power, thermal capacity, size and "predisposition to use weapons of directed energy against fellow citizens" made these systems are difficult to implement. Today, the ONE technology is mainly divided into: high-energy laser HEL (high-energy laser), high-power microwave weapons HPM (high-power microwaves) and charged particle beams. The truth is that we are getting closer to the day when the ONE systems become common in the combat space. This article provides an overview of several promising radio frequency and laser systems currently available, and discusses the most likely trends in the military use of ONE systems over the next ten years.
Active Containment System (CAC)
The Active Deterrence System (CAC) is an affordable, fully deployed and ready-to-go system for the ONE. SAS, sometimes referred to as a heat ray or pain ray, was created by Raytheon, the world leader in the design and research of microwave radiation. It is one of the first non-lethal, anti-personnel systems, deployed in the US Army. CAC was created as a non-lethal crowd control system and prohibiting entry to the zone. The system installed on the vehicle was tested at a distance of about one kilometer. CAC sends a focused beam of extremely high frequency 95 GHz towards an individual or group of people, causing severe pain. This energy causes a rise in the temperature of the surface of human skin, after a few seconds it becomes so uncomfortable that people are forced to leave the controlled area. Hundreds of tests were conducted on humans, after which the CAC was certified as a non-lethal weapon. However, doubts remain about the health effects in the long term, or what happens if a person has been exposed to long-term effects. SAS was deployed in Afghanistan in 2010, but was never used and skeptical field commanders were sent back. CAC was demonstrated by the Marine Corps at Quantico in March 2012, and the infantrymen enthusiastically accepted it. "You will not hear it, you will not smell it, but you will feel it," said Colonel Tracy Tafoll, director of the non-lethal weapons joint control, "and this gives us some advantages that we can use."
Mobile demonstrator high-power laser HEL MD (High Energy Laser Mobile Demonstrator)
In the middle of 2007, two Phase I contracts were signed with Boeing and Northrop Grumman for the development of a ground-based mobile laser system. In 2009, Boeing was allowed to continue its work and produce a demo model mounted on the chassis of a heavy military all-terrain vehicle HEMTT. The low-power system tests were completed in 2011 at the White Sands test site. It demonstrated the ability of the system to capture, escort and destroy flying ammunition. The next contract from the American Army Rocket and Space Agency, issued in October 2012, allowed these developments to continue. This contract is known as the Phase II High Power Testing Contract; it provides for the installation by Boeing of a solid-state laser with an 10 kW in a mobile demonstration installation of a high-energy laser HEL MD (High Energy Laser Mobile Demonstrator). The next optional step could be the integration of a more powerful laser, the purpose of which is to reduce the risk of using high-power lasers. The upgraded installation HEL MD during operational tests will perform the capture, maintenance, damage and destruction of targets.
"The Boeing HEL MD program uses the best solid-state laser technology to provide the army with means of working at the speed of light to protect against missiles, artillery, mortars and UAVs, both today and in the future," said the vice president and directed energy systems mike wrynn. Boeing expects the system to be complete and ready for production by the 2018 year, with the laser power increasing from 10 kW to 100 kW.
Experimental laser installation YAL-1 (formerly Airborne Laser)
The Boeing YAL-1 Airborne Laser Experimental Laser Testbed, formerly ABL (Airborne Laser), is a weapon system based on a megawatt-class chemical oxygen-iodine laser installed inside a modified Boeing 747-400F aircraft. It was created mainly as a missile defense system for the destruction of tactical ballistic missiles during the acceleration phase. The US Agency for Missile Defense (MDA) in August 2009, successfully launched the first high-energy laser (HEL) on board a flying aircraft. In January, the 2010 of the year during the flight HEL was used to intercept, rather than destroy, the test rocket during the acceleration phase. In February, the 2010 of the year during tests near the coast of California, the system successfully destroyed a liquid rocket in the upper reaches of the trajectory. As stated in the MDA, less than an hour after the first rocket was destroyed, the second rocket, but solid propellant, was successfully intercepted (but not destroyed) and all the test criteria met the specified. In a statement by MDA, it was also noted that ABL destroyed an identical solid-fuel rocket in flight eight days earlier. For the first time during tests, the directed energy system destroyed tactical ballistic missiles at any stage of flight. Later, a report was published in which it was said that during the first February "shelling", the destruction of the rocket took 50% less exposure time than expected; The second bombardment of a solid-fuel rocket was turned off an hour later before the missile collapsed due to problems with "beam mismatch." Funding for the program was curtailed in 2010, and then canceled altogether in December, 2011. In the 2013, research continued with the goal of using the experience gained with the YAL-1 laser machine and trying to install an anti-missile laser machine on drones that could fly above the height limit of the converted Boeing 747-400F jet airliner.
The system of zone defense short-range Area Defense Anti-Munitions (ADAM)
Lockheed Martin was also one of the leaders in the development of HEL-based weapons systems. Over the past few years, Lockheed Martin has developed the Area Defense Anti-Munitions (ADAM) area defense system to protect important objects from short-range threats, such as UAVs or homemade artillery missiles of the QASSAM type. The laser and ADAM fire control system are housed in a container on a large trailer that can tow a truck. After taking a position and turning on, ADAM can receive information from a network of nearby radars or, with proper synchronization settings, operate as a separate system. After receiving the signal, ADAM can track targets at a distance of 5 km and destroy them with its laser power 10 kW at a distance of up to 2 km. According to Lockheed Martin, during a demonstration in 2012, the system captured, tracked and destroyed the target within three seconds. In November 2012, Lockheed Martin reported that ADAM "successfully destroyed four missiles in a simulated flight from a distance of 2 km and intercepted a UAV at a distance of 1,5 km, causing its controlled crash." During the following tests in March and April of 2013, the ADAM system destroyed eight attacking small-caliber missiles like the QASSAM. Lockheed Martin continues to improve ADAM and, according to Lockheed Martin Space Systems President Tony Bruno, ADAM "is a practical and affordable directed energy system that can solve the real problem of dealing with near threats."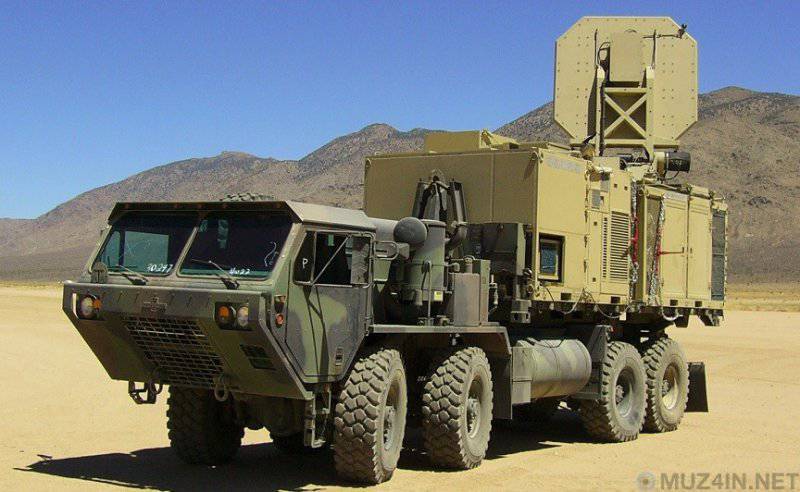 The Marine Corps demonstrated the Active Denial System (ADS) active containment system in November 2012 of the year in Virginia. ADS - a modern system of directed energy in the range of millimeter waves, which, in contact with potentially hostile mobs, gives the military something more reasoned than shouts and less harmful than shooting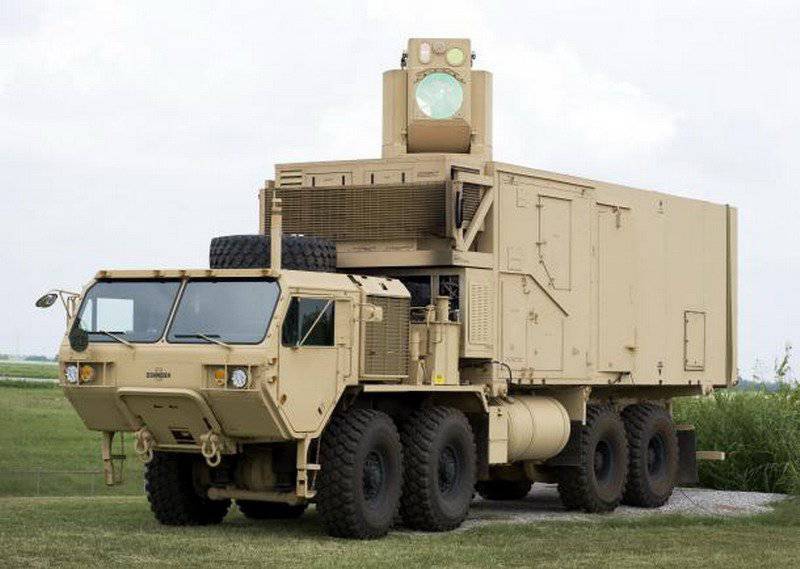 Considering that the future is behind lasers, Boeing has created a mobile laser weapon system on the truck chassis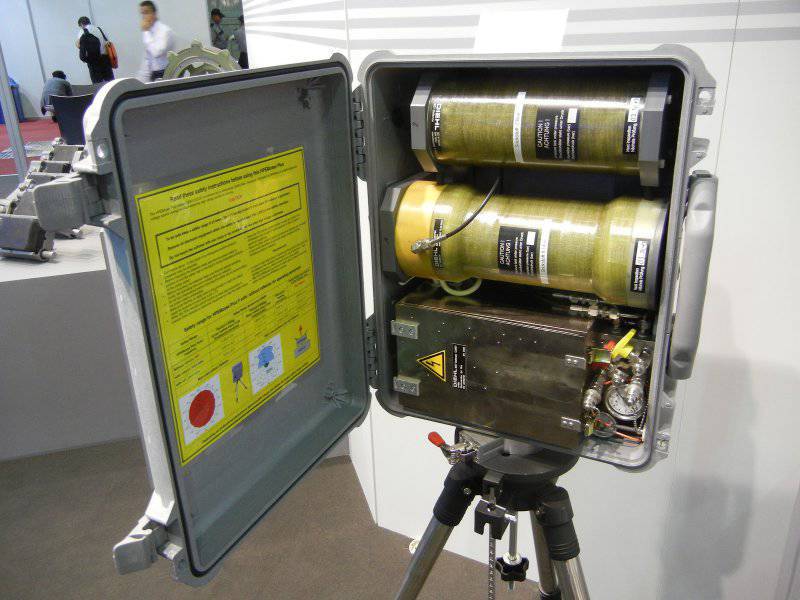 Diehl Defense's HPEMcase Plus is a compact, stand-alone mobile system, compared to the standard version, on the 50% has higher power and a longer range. The system is used to combat listening devices.
HPM BLACKOUT High Power Microwave Weapon by Bofors
Some non-lethal ONE systems are difficult to detect. They can give a unique tactical advantage in today's conflict. Imagine that you can prevent your opponent from using electronic devices at the touch of a button? This, for example, can be done using a High Power Microwave (HPM) BLACKOUT high power microwave system from BAE Systems Bofors. The system is a mobile microwave source that can disrupt unprotected electronic devices. Originally designed only as a device for evaluation and experimentation, the Bofors HPM BLACKOUT has good prospects for becoming a practical system with real-world application. The reference information on the system states that the system "had a devastating effect from a considerable distance on the most varied commercial equipment ... The system consists of a built-in modulator, a microwave source and an antenna." The system weighs less than 500 kg and has a length of about 2 meters. The operational version of the Bofors HPM BLACKOUT could disable target areas, disabling many commercial and some military electronic systems, making the opponent unable to use mobile phones, smartphones, tablets, other devices and weapon systems. A recent report by BAE Systems said that a team of researchers "demonstrated the ability of the Bofors HPM BLACKOUT system to have a detrimental effect on selected electronic devices in weapon systems and showed that this system could be an important addition to other weapons, in particular in an asymmetric space, where real threats mingle with innocent civilians. " It is clear that ONE systems, like the Bofors HPM BLACKOUT, could be used to gain an advantage in electromagnetic combat space.
High-Power Electromagnetic Weapon High-Power-Electro-Magnetics (HPEM)
Diehl has developed a series of microwave sources based on Marx multi-stage oscillators and microwave oscillators (the method for generating microwaves from direct current pulses remains unclear). These sources range from wearable (operating at 375 MHz and DS110B operating in the 100-300 MHz band) to fixed installations (operating at 100 MHz [in oil], 60 MHz [in glycol] and 50 MHz [in water], all at the maximum pulse repetition frequency 50 Hz). According to available data, portable systems produce 400 kV and 700 kV, while the output voltage of a fixed installation can reach one megavolt. Diehl's technical staff worked on the development and implementation of a high-gain antenna in order to increase the efficiency of the above-mentioned systems and use them for military purposes.
In January, the patent office 2013 granted a patent to Diehl BGT Defense for its microwave generator.
The use of non-lethal HPEM systems (High-Power-Electro-Magnetics - high-power electromagnetism) provides new opportunities that will allow the military and civilian forces to disable the command, information and monitoring systems. HPEM sources can be used to protect people and convoys, for example, in order to overload and permanently disable radio-explosion-proof devices. Unlike traditional silencers, the HPEM Convoy Protection System is also effective against new types of sensory IEDs. Enemy machines with electronically controlled engine may be unexpectedly stopped by a mobile or stationary HPEM system. New HPEM technology from Diehl Defense protects transport columns from IEDs; it allows you to stop cars leaving and prevent unauthorized access to restricted areas. Thus, this technology convincingly contributes to the protection of soldiers participating in international missions.
HPEM systems can also help special and police forces perform their tasks. HPEM systems suppress enemy communications and disrupt intelligence and information systems, for example during the release of hostages. Analysis of the impact of high-energy magnetic pulses on weapons systems leads to the concept of non-lethal actuators that can neutralize hidden IEDs from a safe distance without harming people and the environment.
Portable HPEM devices are available as test systems along with vehicle-mounted basic systems for controlling IEDs and stopping vehicles.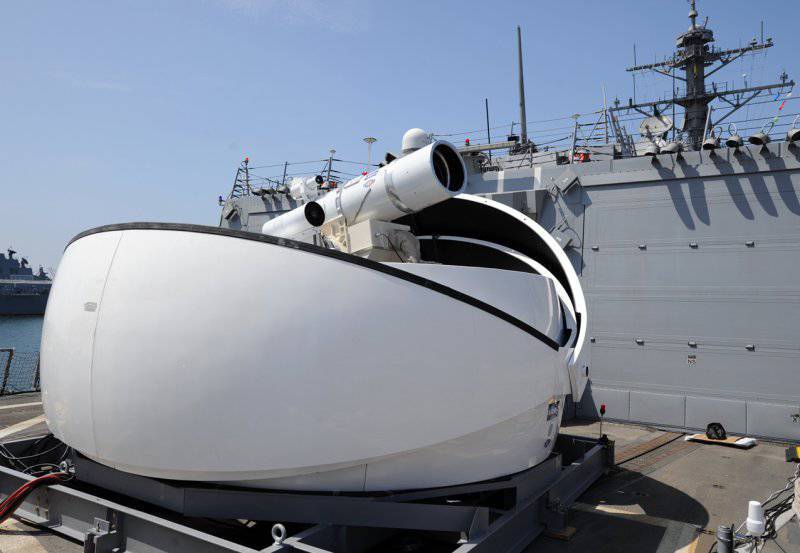 The laser weapon system LaWS (Laser Weapon System) is a technological demonstrator made by the command of naval systems from commercial solid-state fiber lasers. LaWS can be aimed at targets in accordance with data obtained from the MK 15 PHALANX Close-In Weapon complex or from other sources of guidance, and destroy small boats and aerial targets without using bullets.
LaWs ship laser
To directly protect the ships, Raytheon developed the LaWs solid-state laser. This ONE system combines the rays from six HEL installations into a single beam for aiming at slowly moving targets; it is connected to a radar station that identifies and tracks attacking targets. LaWs is expected to complement traditional short-range kinetic weapon systems; it can be aimed at targets in accordance with data obtained from the MK 15 PHALANX Close-In Weapon complex or from other sources of guidance. After successful trials in real conditions in 2012, LaWs program manager captain David Kiel stated that "the success of these works clearly substantiates the military use of directional energy weapons for sea conditions. Further development and integration of a more powerful laser into the LaWs system will increase the range and expand the set of targets that can be successfully captured and destroyed. "
The US Navy sees LaWs as a highly functional and accurate low-risk, high-return system. "Even our understated data tells us that one shot of directed energy costs less than a dollar," Rear Admiral Klander said in an interview with 8 on April 2013 of the year. "Compare with hundreds of thousands of dollars a rocket launch and you begin to understand the benefits of these capabilities."
Referring to a number of technological breakthroughs in the development program of LaWs, the US Navy announced that they would deploy LaWs installation on board the PONCE-class AUSTIN dock in 2014.
Development of short-range air defense missile systems based on high-energy laser system
A laser weapon, or ONE, radiates energy in a given direction without means of delivery. It transfers energy to the target in order to achieve the desired impact. Expected effects on humans can be lethal or non-lethal. This effect can be classified as physical, physiological or psychological. Energy can be in different forms: electromagnetic radiation, including radio frequencies, microwaves, lasers and masers, particles with a mass in a beam weapon (from a technical point of view, some kind of micro-projectile) and sound in a sound weapon.
Laser weapons are particularly suitable for operations that require high accuracy and fast scalable effects, as well as to protect against low-cost threats attacking in large numbers.
Demonstration laser machine from the German company MBDA
MBDA promotes high power lasers in the development of integrated laser weapon systems. Benefits include: immediate impact on the target, low optical detectability, low logistics and maintenance costs and very low work costs, scalable impact on the target and the possibility of increasing it, high accuracy, high selectivity, no indirect losses and, finally, no need to purchase, storage or transportation of ammunition.
Possible applications for laser weapons systems include the protection of important objects, such as advanced operational bases, soldiers and vehicles (ground, air, sea); increase or hinder tactical mobility; and protection against terrorism. They are able to perform the tasks of combating missiles, artillery shells and mortar ammunition, UAVs, IEDs and portable air defense systems.
Today, MBDA's focus on high-power lasers is based on the so-called integrated systems approach. MBDA is working on laser weapons to fight missiles, artillery shells and mortar ammunition. Work carried out under a contract with the European Defense Agency and the German Office of Defense Procurement is progressing at a good pace. In order to accelerate development, MBDA has invested a significant amount of its own funds in this program.
Demonstration laser machine with a laser power 40 kW successfully worked on air targets that were at a distance of more than 2000 meters and a height of 1000 meters.
The necessary infrastructure is already available at the MBDA site in Schrobenhausen. It consists of three test sites for shooting and tracking, a test lab and a rooftop laboratory with a laser demonstration facility, which together offer excellent opportunities for current and future development projects.
Next ten years
ONE systems show us what the future may look like. Before the ONE replaces gunpowder and becomes a qualitatively new technology of war, the problems associated with power, heat capacity, size and the "propensity to use weapons of directed energy against fellow citizens" must be solved. "A useful rule of thumb is that the TNT bollard contains about megajoules of chemical energy and this amount is often necessary for the destruction of the military target," the report on the UNE systems, published by the US Navy Dalgren's Surface Weapons Development Center in June, says. In order to become an ordinary military weapon, any prospective laser, phaser or blaster constantly will need to generate a destructive energy of about one megajuol. Most of the ONE systems have not yet reached this level, but some of them can reach such capabilities at the start of 2013.
At the moment, based on information on the systems of the OED, published in open sources, it is possible to draw the following intermediate conclusion. The main prospect of using directed energy for military tasks is the ability to control riots (ADS), disable unshielded electronics (Bofors HPM BLACKOUT, HPEM), and protect important areas and equipment (ADAM, LaWs and HEL MD). These opportunities alone allow me to raise the combat potential so much that it forces us to carry out constant research and development on the ONE systems. Systems with higher lethality and correspondingly greater energy requirements are installed on large ships, large aircraft and ground defense targets with large energy sources. Although the first lethal ground-based mobile laser system HEL MD has already been deployed on a large machine, it is not yet as mobile, functionally flexible or lethal as the existing kinetic systems. In the next decade, after overcoming significant technological difficulties, it is possible that a tank will appear, equipped with a new version of the "HEL MD-like" laser system. The head of the program for the development of solid-state laser technology at the Office of Naval Research wrote in his report in April 2013: "The future is already here. A solid-state laser is a big step forward in the direction of the fundamental transformation of modern warfare, which is characterized by the emergence of directed energy systems; in the same way, it happened in its time with gunpowder, which replaced knives and swords. "
Materials used:
www.monch.com
www.airborne-laser.com
en.wikipedia.org
www.lockheedmartin.com
www.boeing.com
www.baesystems.com
www.diehl.com
www.raytheon.com
www.mbda-systems.com