Nigeria converts its currency reserves into yuan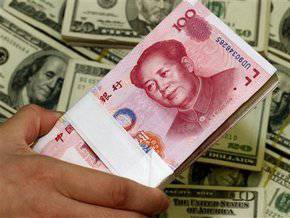 Lamido Sanusi, the governor of the Nigerian Central Bank in Beijing, said that Africa's leading oil exporter is converting at least 10 percent of its 33 billion-dollar foreign currency reserves from US dollars to Chinese yen.
In the case of Nigeria, the amount up to 3.3 billions of dollars, which it converts into a yuan, is not that big, at least for an oil exporter. As economists say, what is said here in connection with the decision of the bank is unusual: the yuan, which until recently was pegged to the American dollar and made Chinese exports much cheaper, turns into a world reserve currency. Africa, especially Western, may be the earliest, and easiest area to promote Chinese success.
As Sanusi says, turning the yuan into a global currency trusted by central banks and finance ministers from different countries, and which is used in commodity trading, is "inevitable".
Razia Khan, an economist at Standard Chartered-Bank, said that voting for the yuan "ruble" of the most dollar-denominated African economy, dominated by Western oil companies, is a "significant victory" for the yuan.
"I do not think that the symbolism of this step will pass unnoticed," she says. "The fact that a major African oil producer says it will diversify its reserves has a meaning that cannot be ignored. This is a goodwill gesture in the hope that it will lead to an increase in Chinese investment in the country. "
Since the end of World War II, most international goods, ranging from barrels of Bahraini oil and ending with the Chilean Chardonnay, were traded for dollars, which gave an advantage to American buyers, and was the main reason why conversion to dollars is 85 percent of transactions in the world.
And now the most populous country in the world is trying to push its currency as a competitor to trade in raw materials. According to Standard Bank analysts Simon Fremantle and Jeremy Stevens, a better place than resource-rich Africa, where China's close ties are not found.
"According to our somewhat conservative estimates, we expect that around 40 percent of China's and Africa's trade will be in yuan by 2015," Fremantle writes in an e-mail statement. This percentage will represent the volume of trade in 100 billion dollars - more than the entire volume of Africa's trade with China for the whole of last year.
If everything goes well with Nigeria, they are more likely to turn their eyes to other financial centers on the continent: South Africa, Ghana, Angola and Kenya.
But, by and large, says Khan, China has already pushed the dollar in the darker corners of Africa: in Guinea, the Democratic Republic of the Congo and Sudan. In each of these countries, China is building major infrastructure projects — roads, railways, ports, stadiums — and in return receives raw materials, such as cobalt and bauxite.
Ctrl Enter
Noticed a mistake Highlight text and press. Ctrl + Enter