How to stay winners?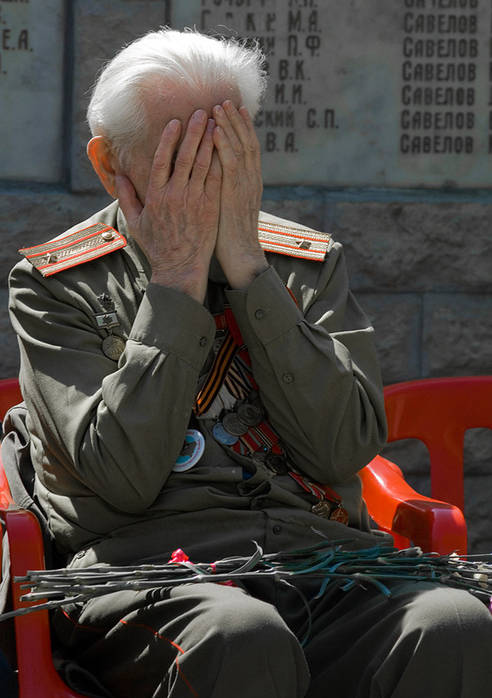 More than 66 years have passed since the Great Patriotic War ended, and since the last explosions of the Russo-Japanese war died down, and with them the World War 2. However, so far the exact number of dead has not been calculated on the territory of our country, many events that occurred both during the war and after its termination have not been assessed. In Russian textbooks
stories
Sometimes you can read completely contradictory statements about the course of a particular battle, the results of interstate cooperation and the role of society at a particular historical stage. Historical soil has always remained and continues to be fruitful for criticism.
Since the collapse of the Soviet Union, an entire generation of people has already grown up, many of whom seriously say that "we'd better have lost in that war." It is strange and even scary to hear such words from the mouth of people whose great-grandfathers laid down their heads for the sake of their freedom and happy life. A person who declares that the Victory to our country did not give anything at all, except poverty and shame, you just need to despise, because he does not deserve any other feelings towards himself.
However, most of the "lost sheep" made such propaganda, imposed on television screens, computer monitors, plots of Western films and other means designed to transform our society under a pre-planned order. A young man who reads in the history textbook that the Soviet Army saved the world about the brown plague, looks at the TV screen and sees that his peers in Germany and Japan are driving around on expensive foreign cars. At the same time something unimaginable begins to happen in his head. First, at an unconscious level, he identifies every modern German resident with the fascists from a textbook subject to the Japanese Crown with the militarists 66-old. Then this unconscious confronts him with the question of why I, as a descendant of winners, cannot afford to buy an expensive car. Psychological pressure increases when someone says that he should not live like this. Next, it turns out an SMS mailing with the words: in order to live better in Russia, you have to go outside and start smashing foreign embassies, killing people with a different skin color, burning cars on the streets. Will such words affect a young man? Of course. Integration of personal emotional experiences and skillfully orchestrated PR will force him to enter the square under the slogan "Bay Germans, Jews, blacks, Tajiks and everyone around - save Russia!" This technology, according to which, on the basis of an individual attitude to reality, you can get total shoots hate the world is not new. That is how Adolf Hitler came to power. His words that Germany lives poorly, as it is infringed upon by Britain, France and other European powers, turned into a 12-year-old world nightmare called "German Fascism". Any totalitarian government can not be built on the basis of only a civil initiative. It, operating with slogans hitting the living, gives a person aggression towards certain persons and concepts, and then "opens the curtain" before an idol, Führer or father of nations, forcing him to feel a thrill towards him.
Today, it is increasingly possible to hear the cries, according to which we, the people living in the victorious country, cannot afford to drag out a beggarly existence. At the same time, such exclamations are directed either at the so-called marginal segments of the population, or at those who are really below the normal range of life due to low incomes. Adolescents, whose psychology has not yet had time to steadily form and therefore reacts painfully to various external factors, are actively listening to such words.
Of course, it is painful to realize that millions of people in our country are forced to live below the poverty line. It is painful to see that the "defeated" people once have been successfully developing by us, finding more and more new means to provide themselves with labor potential and sustainable incomes. Such an emotional mood in many people increases the feeling of negativism towards power. It was in Soviet times, it is now. However, the most surprising thing is that we ourselves sometimes do not want to take absolutely no adequate actions to improve our own lives. Do people who go out to smash Caucasian tents in the markets or go down the subway to cripple the Chinese or Vietnamese who are returning to their hostel think that this is a panacea for all Russian troubles. We sit in our cars, once again we drive into the same puddle at the intersection and start voting that local authorities do nothing to repair the roads. In this case, we do not raise the back seats, when elections of any level are held, declaring that, they say, nothing really depends on me. It happens otherwise, people, knowing full well that the authorities are not doing anything to improve their welfare, look at it through their fingers, continuing to brand the wrong policy of our leadership in kitchens. I would like to ask: what do we ourselves do in order for the authorities to be responsible for their obligations? What are we doing to make the officials work, and not wipe Versace suits on leather chairs purchased for our taxes? This question can be considered rhetorical ... We ourselves give obscenities to the "cops" for bribery and we put them in our hands at the first opportunity that has appeared a color bill in order to appease the "boss". Our grandfathers and great-grandfathers were able to defeat fascism, and we, positioning ourselves as the descendants of the winners, cannot even defend our rights in court when we are delayed in salaries or unable to patch the roof.
The same Germans and Japanese, who suffered a crushing defeat from the USSR, do not experience discomfort because they are "defeated". They just do their job and they know their value. They may, at the right moment, demand explanations from the authorities. We do not know how to do this. Therefore, the conclusions that we are winners, they are losers, so we should live better than they are more like the conclusions of a silly first-grader.
To live better, we need to win first and foremost ourselves, our laziness and inertness.
Ctrl Enter
Noticed a mistake Highlight text and press. Ctrl + Enter