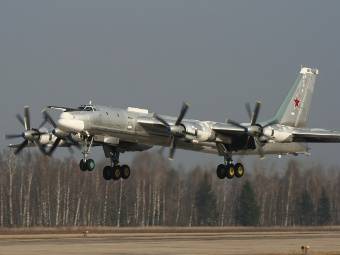 Military
aviation
Tajik Defense Ministry intends to demonstrate at a military parade on September 9 two strategic Tu-95 bombers. This was reported by the local Asia Plus agency with reference to the head of the press center of the Ministry of Defense of Tajikistan Faridun Makhmadaliev.
According to him, military aviation of the country's defense department will take part in the military parade to be held in honor of the 20 anniversary of the State Independence Day of the Republic of Tajikistan in the city of Dushanbe. In particular, three MI-8 helicopters, four Mi-24, three combat training aircraft L-39 and two strategic bomber Tu-95 will fly in the sky over the metropolitan area "Dusti". According to the decision, the parade also, in addition to the Tajik and Russian military, will be the combined regiments of the armed forces of Afghanistan, Iran, India and France.
Earlier, the press did not report the presence of Tu-95 bombers in the Tajik Air Force. Recall that the Tu-95 (according to the codification of NATO: Bear - "Bear") - the Soviet turboprop strategic bomber-missile carrier, the fastest propeller aircraft, which became one of the symbols of the Cold War. The only one in the world adopted and serially produced a turboprop bomber. Designed to hit cruise missiles of important objects in the rear of the enemy at any time of day and in all weather conditions. In operation with 1956 of the year.