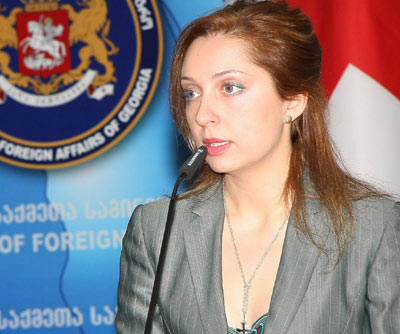 Relations between Moscow and Tbilisi can be broken completely. The reason for which may be the sale at auction in Moscow of the former guest house "Tbilisi", which the Georgian authorities consider to be their property, writes "Kommersant".
As stated by the Deputy Foreign Minister of Georgia Nino Kalandadze,
история
with the building in Skatertny Lane, which "was illegally confiscated in 2006 year", is a "flagrant violation" of the Vienna Convention.
"In accordance with the Vienna Convention, the controversial issue related to the hotel building did not reach the court proceedings, although there is a real dispute through the exchange of notes. The Georgian side, with the help of the Swiss embassy, ​​sent 26 July a note demanding the building to return, but the reaction was strange: there was no answer, and at the end of August it became known that it was taken out for auction. This is illegal, "she explained.
Kalandadze drew attention to the "strange coincidence": "The building was put up for auction at the moment when the Georgia's interests section on Ostozhenka Street cut off electricity."
After the war in August 2008 and the break of diplomatic relations initiated by Georgia, Moscow and Tbilisi agreed that a "Georgian interests section" would open to resolve consular issues at the Swiss embassy in Russia, and a "Russian interests section" at the Swiss embassy in Georgia. Employees of the Russian consular service work in the building that the Russian Federation built at the beginning of the 2000-s in the center of Tbilisi. Their Georgian colleagues in Moscow do not have such property and are forced to rent a room.
A source at the Georgian Foreign Ministry said that if the "interests section of Georgia" is still to be evicted from the building on Ostozhenka, Tbilisi will "immediately take adequate measures." Perhaps, Tbilisi, accusing Moscow of violating the Vienna Convention, annuls the tripartite agreement of Russia, Switzerland and Georgia on "sections of interest" at the Swiss embassies, withdraws its consular officers from Moscow and expels Russian diplomats.