US Department of State does not believe that Gaddafi fled to Niger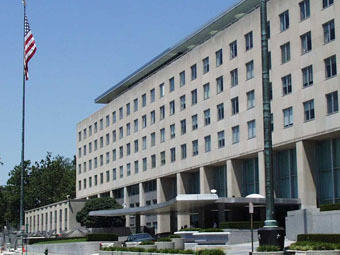 Washington believes that Muammar Gaddafi was not among the passengers of cars that crossed the border with Niger.
"According to information received in Washington, these cars were high-ranking officials of the authorities of Gaddafi, but we do not think that Gaddafi himself was among them", - quotes the Interfax representative of the US State Department Victoria Nuland.
Recall today earlier supporters of Muammar Gaddafi, led by the commander of the brigades of the Libyan security forces, Mansour Dhao, arrived today in a motorcade in the capital of Niger, Niamey.
Gaddafi and his son Saif al-Islam may join in and continue along with the convoy if they decide to accept the offer of Burkina Faso.
It should be noted that the head of the Foreign Ministry of Niger refuted today media reports that the leader of the Libyan Jamahiriya Muammar Gaddafi arrived in the territory of this country. "It is not true. There is no talk of Gaddafi, "said Niger's Foreign Minister Mohammed Bazum.
Earlier, French military sources reported that a motorcade of Qaddafi forces, consisting of 200-250 machines, arrived in Niger. According to them, Muammar Gaddafi and his son Saif al-Islam were planning to join the convoy on the way to the small state of Burkina Faso, which borders Niger. Meanwhile, Gaddafi official spokesman Musa Ibrahim said earlier that Muammar Gaddafi is still in Libya. According to him, Gaddafi feels great and is engaged in organizing the defense of Libya. Ibrahim himself believes that Gaddafi is in the city of Bani Walid.
Meanwhile, as the Minister of Foreign Affairs of Niger explained, several people arrived in the country occupying to some degree high posts, but there are no people from the Gaddafi family, including the leader of the Jamahiriya himself.
In addition, a source close to the office of the President of Burkina Faso, Blaise Compaore, said today that he was unaware of any plans of the ousted Libyan leader or any of his entourage to arrive in this West African state.
As reported by Rosbalt, there was also information that a motorcade of Muammar Gaddafi forces arrived in Niger, carrying gold and currency.
Ctrl Enter
Noticed a mistake Highlight text and press. Ctrl + Enter