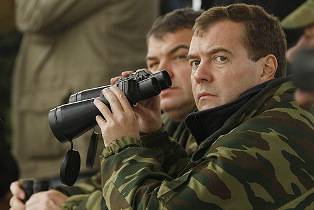 Information and analytical publication "Centenary" published an article entitled "Libya: an unknown war of a new generation," with the subtitle: "The sensational version of Russian military analysts"
I will not dwell on the fact that almost all the revelations of these same military analysts have been discussed for half a year by a number of reputable Russian-speaking bloggers. This article, in addition to summing up the technology of NATO aggression against Libya, so to say the isolation of the "dry residue", has, in my opinion, another interesting and very important conclusion:
Russia and China are full participants in the destruction of Libya.
I suspect that they will immediately object to me, they say, this is not
news
The whole world witnessed the connivance of Russia and China when they refrained from vetoing a UN resolution that practically unleashed NATO hands. However, I am absolutely not about that. I am precisely about what follows logically from the said conclusion of Russian military analysts, but what is not mentioned in a word in the article.
So, here are some quotes from this expert opinion.
"No snipers were sent there, no orders aviation it was not possible to bomb the city, and on the screen there were black puffs of smoke, the skeletons of the destroyed houses and women's, mainly the cries of children innocently killed by the bloody dictator.

It later became clear that the mountains were puffed up by specially assembled automobile tires, and the destruction was actually cinema scenery. However, M. Gaddafi has already lost control over the situation that developed in exact accordance with the script written somewhere. "

"The real atrocities that the" rebels "repaired in Benghazi over government officials, police and military, the so-called" Gaddafists ", remained behind the scenes"

"Immediately after this, the cities of Libya were subjected to bombing attacks, real destruction began and real civilian casualties appeared. The media did not doubt that this agonizing regime decided to wipe its own country along with its entire population."

"However, before starting the destruction of the army of the Jamahiriya," peacekeepers "struck crushing blows at ... cities captured by rioters. They received the formal right to fly in the sky of Libya, the planes were high and far, so where did a swarm of rockets or heavy air bombs come from -" the rebels "had no idea. But they, as well as the whole world, were told that it had been crept by M. Gaddafi's Grads and hit defenseless cities and residents. US special forces not only monitored the results of night raids, but, if necessary, corrected x via tend laser markers. "

It is possible to continue citing further, but even the cited material is quite enough for a very reasonable question to arise, which for some reason did not arise for Russian analysts: "Let me, but in Russia, in general, at least some kind of intelligence exists ?!" "
No, in fact, behind all this, simply clinical, lawlessness, this very obvious question somehow got lost. And really, what's going on? For many years Russia had more than friendly relations with Gaddafi, starting from the time of the USSR. Naturally, the residency of the Russian special services there have both a base, and traditions, and almost state support of the Jamahiriya. And the intelligence of the Russian Foreign Ministry, the GRU, and the SVR, and those of which we do not even guess, and the intelligence of the Russian private oligarchic structures are all represented in Libya, all have their own bases, employees, communications, information collection channels. All this existed in the days of the KGB, and only expanded over the past two decades. For this, all the conditions. Here you and the non-resistance of the authorities of Libya, here you and the old developments of the KGB, then you and the strategic market for Russia - oil and
weapon
, here you and a huge number of specialists from post-Soviet countries, among which it is so easy to recruit and implement agents, then you and our citizens' connections with Libyan, up to joint marriages. In general, spy - I do not want.
Considering that the leadership of the Russian Federation is completely descended from these very special services, it is difficult to assume that the intelligence in Libya was taken like this, in one fell swoop, and was buried. And if you believe the Western media, claiming that Russian leaders, who come from special services, have long become oligarchs themselves, it is obvious that in addition to government interest to stimulate intelligence in Libya, they have a personal, very bold interest here.
And in this situation, only two possible conclusions. Either one or the other, here they are.
Conclusion one
All Russian intelligence in Libya, absolutely all of the security services listed above, were not only completely incompetent, but blindly deaf and dumb. They didn't see, didn't know and didn't guess that heaps of tires were burning instead of cities, that Gaddafi's army didn't even rip off, and it was the rebel gangs who were massacring while American planes were attacking the rebels' positions. The Russian military satellites, meanwhile, were hanging out, the devil knows where, in incomprehensible orbits, only not where NATO is deploying, in the zone of Russian interests.
Some will say that this is nonsense. Others, on the contrary, will confirm, they say, in our mess, and this is not possible. I will not argue, it is possible and possible. One thing to note: this is the most pleasant scenario if this epithet is applicable to such a disastrous state of affairs.
Conclusion two
Much more terrible. Intelligence knew all this, reported, but, nevertheless, the President of Russia and his Foreign Ministry calmly allowed America and NATO to destroy Libya, as a sovereign state, and to destroy Libyan citizens in droves. I will not even mention the moral and legal aspects here. When it comes to the global geopolitical game, the so-called "big politics" - it is ridiculous and naive to operate with such concepts. Therefore, it's not about that.
I will return once again to the article by Russian military analysts:
"The next goal is Syria. Dumping President Bashar Assad by increasing political unrest is not so difficult. But it is very important for the United States to completely defeat the army and navy of Syria. Unlike Libya, Damascus managed to arm itself with fairly modern and good technical characteristics of Russian weapons. And if it is possible to destroy all these planes, combat helicopters, armored vehicles, rocket boats and submarines, anti-aircraft missile systems, without loss, then the US Army can officially declare itself invincible.

Then it is possible to recognize the practical triumph of the theories of the network-centric war. Then the United States can safely begin the war against Iran. Then, of course, it will become clear to the world without further ado that Russian weapons that are actively bought on the world market are completely ineffective. A "extra" words, believe me, it will be said a lot. And Russian arms exports will collapse. "
So, we are talking about the near and very likely collapse of Russian arms exports. As everyone understands, we are talking about losses of billions and billions of dollars, euros, pounds. But a lot has already been said about Russia's oil losses as a result of NATO aggression and the coup in Libya. And the bill of these losses has already gone on billions. And if President Medvedev and a handful of top Russian officials, thanks to intelligence, knew it all, but quietly allowed Russia to suffer such material losses and such a loss of international influence and prestige, then it turns out that this is a matter of high treason by top Russian officials, headed by the president Russia.
Today, in Ukraine, ex-Prime Minister Tymoshenko is being tried for similar actions. Yes, they do not incriminate state treason against her, but merely exceeding official authority, which caused enormous losses for the state of Ukraine. However, de facto, it is not a secret to anyone that this is a real high treason based on personal gain. And in this situation, those same Western countries - both the USA and European countries - demand from the leadership of Ukraine not to care about the constitution, about the laws, to intervene in the judicial process, to release Tymoshenko and leave it unpunished for its crimes against Ukraine. It's very beneficial for Tymoshenko's West, I really don't want to part with the billions of Ukrainian money pulled by Tymoshenko into Western banks. But Russian President Medvedev, it turns out, is exactly the same comfortable figure for the West, only the scale here is as much bigger as Russia is in Ukraine.
And here it becomes quite scary. The only means to curb the appetites of the United States and NATO remains and remains nuclear weapons. But, if all these weapons in Russia are under the control of a person who is just as convenient for the West as the Ukrainian Tymoshenko, can you really count on this lever of deterrence? Can one then speak of the existence of nuclear deterrence and a nuclear shield?
Today, many analysts, in the light of the lawless, shameless and uncontrolled aggression of NATO in the Maghreb, have started talking about the impending third world war. But it is worth asking this notorious question about Russian intelligence in Libya, as the following becomes obvious: the specter of world war is another horror story, another tool in a giant information system of duping it. Anything but the Third World. And under this refrain, under these fears, the world will calmly be divided into two categories: the lord's countries — the countries of the "golden billion" and all the rest — slave countries, sources of raw materials and labor. After all, if you can build a virtual war in one particular country, which prevents the continuation of similar within the entire globe, especially if you control the heads of many countries. In any case, the virtual coverage of the war on the scale of our ball has already worked, it remains to clean up the shortcomings.
It remains only to hope that the second conclusion is a figment of fantasy, and to calm ourselves down to our relatives, who are not at all ex-Soviet, a mess. But something is not very successful.