19 allegedly by Ukrainian snipers Gaddafi detained in Tripoli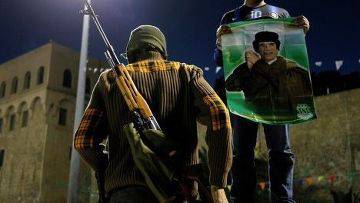 Kiev is checking information about the detention of citizens of Ukraine in Tripoli 19, who, according to media reports, are suspected of being hired by Muammar Gaddafi's regime. This was stated on Monday at the Ministry of Foreign Affairs of Ukraine.
This information is currently being verified. The Ukrainian embassy in Tripoli maintains contact with local authorities, Foreign Ministry spokesman Oleg Voloshin told AFP, without going into any details.
The media reported that the forces of the Transitional National Council (the governing body of the Libyan rebels) detained in Tripoli about two dozen Ukrainians, who were supposed to be snipers in the units of Colonel Gaddafi.
A source in Ukrainian diplomatic circles confirmed to AFP information about the 19 arrest of Ukrainians in the Libyan capital, while stressing that this refers to civilians.
According to preliminary information, these are not mercenaries, but engineers, the source said.
Earlier in Kiev, a number of statements by the media, which claimed that the Ukrainians piloted the Libyan MiGs of Colonel Gaddafi, had already been refuted.
As follows from the calculations of the Ukrainian authorities, by the beginning of the conflict in mid-February in Libya there were up to 1500 citizens of Ukraine, primarily medical staff.
On Thursday, Kiev recognized the Transitional National Council as the only legitimate representative of the Libyan people.
Ctrl Enter
Noticed a mistake Highlight text and press. Ctrl + Enter