Base in Tajikistan will remain for 49 years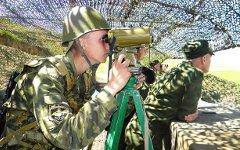 President Dmitry Medvedev paid a visit to Tajikistan, where he agreed to begin talks on extending the length of stay of the Russian military base in that country.
"We will give the necessary instructions to our departments in the first quarter of next year to sign a new agreement focused on 49 years," the Russian leader said after negotiations with Emomali Rakhmon. - Such agreements should be well developed and reflect the balance of interests of both parties.
In the interests of security, the presidents also signed an agreement on cooperation in cross-border issues (the previous agreement was valid from 1994 of the year and expired next year), and the Federal Security Service of Russia and the State Committee for National Security of Tajikistan - an eponymous protocol on cross-border cooperation.
The economic component of relations between the two countries, which was reflected in the new program of economic cooperation for the 2011-2014 years, was not forgotten either. "The implementation of all that is stated in the program will lead to the achievement of substantial progress," said President Rahmon.
Earlier in the afternoon, together with the President of Tajikistan, the Russian leader, in the format of the Dushanbe Four, met with the heads of Afghanistan and Pakistan to traditionally discuss all the same security issues in Central Asia and the economic cooperation of countries to stabilize the region.
"All my colleagues are united in one thing - the responsibility for what is happening in our region will ultimately still rest with our countries," said Dmitry Medvedev after the meeting. "We should think about strengthening cooperation between our states ". Otherwise, the effort may be in vain.
Four countries already have a number of major interesting projects, especially in the field of energy. "But it's time to move from words to deeds, as some colleagues said," the head of the Russian state noted. The discussion focused primarily on Pakistani President Asif Ali Zardari, who was traveling to Dushanbe with the goal of directly stating to his colleagues that it was time to work, and not just talk. However, with one caveat - the financial capabilities of Pakistan are not so great to play a leading role in these projects, which can explain such appeals.
Action, they still had. "I am inspired by your tough performance, and I think that, in general, it reflects, perhaps, a certain drama that currently exists in the field of regional security," said Dmitry Medvedev during a personal meeting with Zardari.
The heads of state agreed to speed up the preparation of a cooperation program that will affect various sectors. Tajikistan also proposed to create an inter-coordination council at the level of foreign ministers and ministers of economy for greater coherence.
Ctrl Enter
Noticed a mistake Highlight text and press. Ctrl + Enter