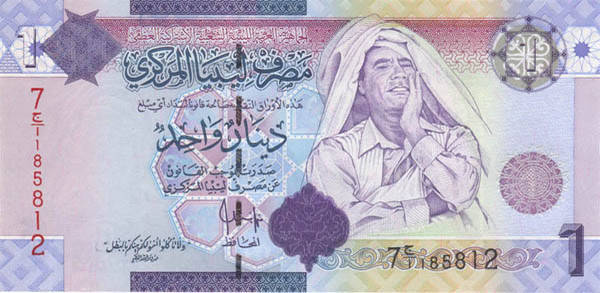 British Air Force aircraft delivered 40 tons of freshly printed banknotes to Libya, some depicted the overthrown leader of the country, Muammar Gaddafi, Reuters reports.
280 million Libyan dinars (234 million dollars) should help the Transitional Council to pay the salaries of workers, as well as fill the long-empty ATMs. This amount is part of the money ordered by Gaddafi in the English printing house De La Rue Plc, which was blocked by the British government. All were ordered banknotes for 1,5 billion dollars.
C-17 Royal Airplane
fleet
landed in Libya already in the dark. The plane contained huge packages with cardboard boxes 2 meters high, in which money was stacked. Then the bills under armed guard were sent to the Central Bank of Libya.
The amount arrived will be enough to pay salaries to tens of thousands of state employees, who make up 80% of Libya's workforce.
"We really do not have enough cash," said the head of the Central Bank of Libya, Gazem Azoz. According to him, Libyan workers have not received their wages for a long time, and also began to accumulate money at home, losing faith in the banking system.
Although the dollar exchange rate on the international foreign exchange market is 1,19 dinar, and according to it 234 million dollars will arrive in Libya, at the street rate in Benghazi, this amount will be reduced to 200 million dollars.
"People rallied. They say they will eat bread and water, just to get rid of Gaddafi, "says the head of the Central Bank. However, for some time they will still have to look at the image of the former leader on one dinar banknotes.
"They will not complain. People know that this is an old design, "says Azoz. Libyan Central Bank has already announced a competition for new banknote processing, he says.
UN Security Council 30 August authorized the UK to defrost 1,6 billion Libyan assets. British Foreign Secretary William Hague endorsed the UN decision, describing it as "another important step taken so that the Libyan people receive the necessary support."