December 16 South Korean Samsung Techwin signed a contract with the Polish company Huta Stalowa Wola to supply the 120 chassis 155-mm / 52 X9 Thunder self-propelled howitzers worth about 320 million dollars, a blog says
Center for Analysis of Strategies and Technologies
.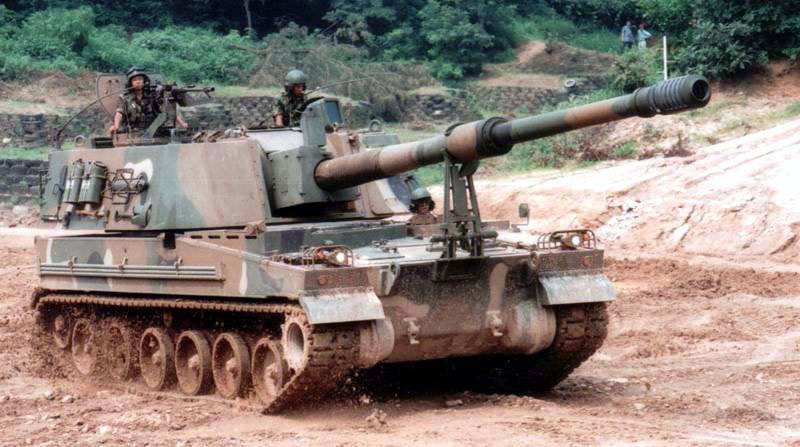 Based on chassis data with engine compartment compartments with German diesel power units MTU-881 KA 500 with HP 1000 power. Huta Stalowa Wola plans to manufacture 155-mm / 52 Krab self-propelled howitzers for the Polish armed forces and armored hulls.
Under the terms of the contract, Samsung Techwin is to supply the 24 Poland with the complete K9 ACS chassis in 2017. Another 96 chassis will be delivered in 2018-2022's.
Huta Stalowa Wola is going to install the 155-mm British self-propelled howitzer AS90 towers manufactured under license, which will be manufactured by the German group Rheinmetall, on them.
The Krab ACS was originally developed on the basis of the UPG (Uniwersalna Platforma Gąsienicowa) armored chassis, developed by Huta Stalowa Wola. In September 2012, the Polish troops received the first batch of 8 SAU, however, during the operation revealed many problems, so it was decided to abandon the use of armored hull and chassis HSW.
"All the vicissitudes of this
stories
clearly demonstrate a very low level of the modern Polish defense industry, for which even the manufacture of a small number of relatively simple running gears for self-propelled guns presents serious difficulties. With the purchase of the South Korean K9 complete chassis, the same Krab ACS is finally turned into a "designer" of imported components, "the center's blog says.