Assistant US Secretary of State Victoria Nuland filed accusations of misinformation against the Russian media. According to her, in Kiev she distributed not cookies, but sandwiches, not only to the protesters, but also to the Berkut fighters.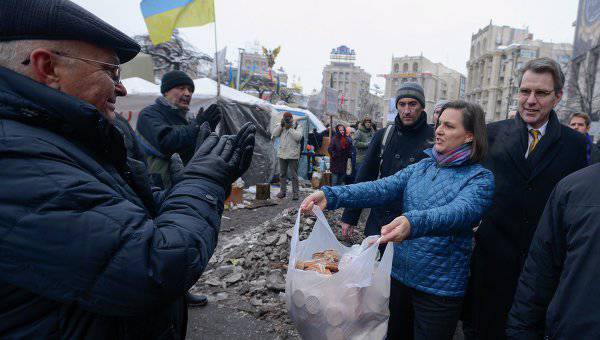 Nuland became famous for her active involvement in Ukrainian internal affairs during the February 2014 coup d'état. Many people remember how she fed Maidan activists and nationalists with cookies.
"This is misinformation! These were sandwiches, not cookies. I remember this day. We tried to help speed up the dialogue between Maidan and President Yanukovych. But then Yanukovych strengthened the protection of the Maidan "Golden Eagle" and two thousand of these young guys in black began to push innocent demonstrators ", - quotes the words of Nuland RIA
"News"
.
According to her, the next day she could not "just leave", and "according to the Slavic tradition" she began to distribute sandwiches to hungry people, and "they were intended not only for the demonstrators, but also for the Berkut soldiers.
The protests of supporters of European integration began on November 21 of 2013, when the Ukrainian authorities decided to suspend preparations for the signing of an association agreement with the EU. Euromaidan was actively supported by Europe and the USA.