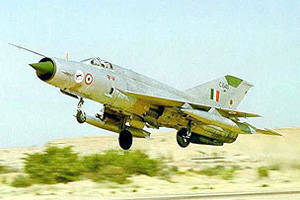 The Indian Air Force has lost 46 fighters in the past six years. On this, as reported by Lenta.ru with reference to Flightglobal, said Indian Defense Minister Arakaparambil Kurian Anthony. According to him, the greatest losses occurred in the 2009 year, when the Indian Air Force lost ten aircraft. Most often, the Air Force lost fighter MiG-21. In addition, during this period, the Air Force lost fighters Sepecat Jaguar and Su-30MKI.
To reduce the loss of combat aircraft, the Indian Air Force is currently implementing several programs to improve flight safety. In particular, we are talking about the dispersal of birds over airfields, as well as more thorough training of pilots on simulators. In November 2010, the Indian Air Force announced that in 45 the percentage of crashes caused by the aircraft was a pilot error. In 42, the percentage of crash events occur due to technical problems, and the remaining 13 percent comes from unpredictable incidents, including bird strikes.
For the Indian Air Force is characterized by a high level of accidents. In particular, from 1970 to 2000, the country annually lost an average of 22-23 aircraft and helicopters, and since 2000 of the year - on 10-15 aircraft per year. Currently, the Indian Air Force is undergoing a large-scale modernization of its fleet. For these purposes in the coming 12 years it is planned to spend about one hundred billion dollars. This amount includes the purchase of training aircraft, fighters, military transport aircraft, anti-aircraft missile systems and bombers.