Ukraine will present at the arms exhibition in Nizhny Tagil an BMP-1M with a squall combat module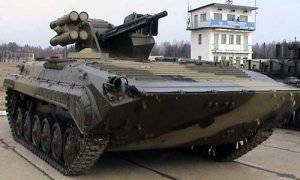 The state concern Ukroboronprom and the state company Ukrspetsexport will take part in the VIII International Exhibition of Arms, Military Equipment and Ammunition "Russian Arms Exhibition. Nizhny Tagil-2011.
At the booth organized by the Ukrspecexport Group of Companies, a full-scale model of an infantry fighting vehicle BMP-1M with the Squall combat module and an overall model of the 5TDFM engine will be demonstrated.
The possibilities of Ukrainian enterprises for the repair and modernization of armored vehicles will also be presented.
On the open area of ​​the Ukrainian exposition a full-scale sample of the T-72B tank will be presented.
For a more detailed acquaintance with the products and promising developments of the enterprises of the defense industry complex of Ukraine, information and promotional materials will be presented at the stand, the press service of Ukrspetsexport Group of Companies reported.
The exhibition in Nizhny Tagil will take place from 8 to 11 September.
Ctrl Enter
Noticed a mistake Highlight text and press. Ctrl + Enter