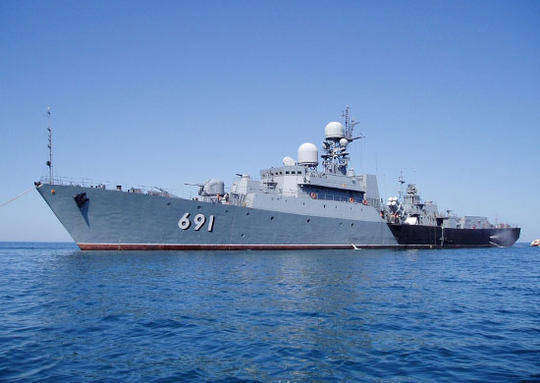 According to the Russian military expert, Russia should liquidate its Caspian
flotilla
, since there is no practical sense in the military presence in the Caspian, and the funds allocated for its maintenance could be used with greater profit for other purposes. In an article in the Slavic Military Studies journal (which can be found on a paid basis), Mikhail Barabanov, editor-in-chief of Moscow Defense Brief magazine, argues that Russia needs to completely rethink the structure of its navy. And that means getting rid of the Caspian flotilla, he writes:
"Currently, the existence of the Caspian flotilla makes no practical sense due to the weak naval forces of all the other littoral states and the absence of real combat missions that the flotilla could carry out. If necessary, Russia can transfer necessary forces and assets from the other three fleets to the Caspian, based on the European part of the country, or involve border troops and
Aviation
".
Russia can ship vessels of a corresponding displacement from the Black Sea along the Volga-Don Canal. The Black Sea Fleet Drums recommends saving. He motivates this by the possibility of Russia entering into conflict with the United States or its Western partners, as well as with the anti-Russian governments of the former Soviet republics. Such a development can be imagined in the Black Sea region (of course, with the participation of Georgia, but, possibly, of Ukraine), but not in the Caspian Sea.
I asked Dmitry Gorenburg (Dmitry Gorenburg), a professor at Harvard University and the director of the Association of Slavic, Eastern European and Eurasian Studies (ASEEES), about this idea about the Caspian Sea, and he did not agree with Barabanov:
"I don't think that the Caspian flotilla can be critical to the security of the Russian Federation in the traditional sense. No one is going to attack Russia across the Caspian. However, the flotilla can play an important role in preventing transnational threats to security. In the Caspian Sea these include trafficking
weapons
and drugs, as well as the possibility of sabotage on energy facilities on the shelf. If the flotilla is tasked with preventing such threats, this will be a major contribution to security in the Caspian region.
As for traditional combat missions, the only such task, from my point of view, may be rendering assistance to Azerbaijan in the event of a conflict with Iran in connection with an unresolved dispute over sea borders. But this scenario seems relatively unlikely. "
Russia announced it had plans to build up its Caspian flotilla. But it seems that these plans are inferior in priority to the tasks set in relation to other naval forces. So in a situation of limited resources, as well as in the event that Barabanov's point of view has spread in the naval circles of the Russian Federation, the Caspian flotilla may continue to remain in a state of stagnation, as it has been for the past two decades.