Up to eight air combat missiles can be placed on the PAK FA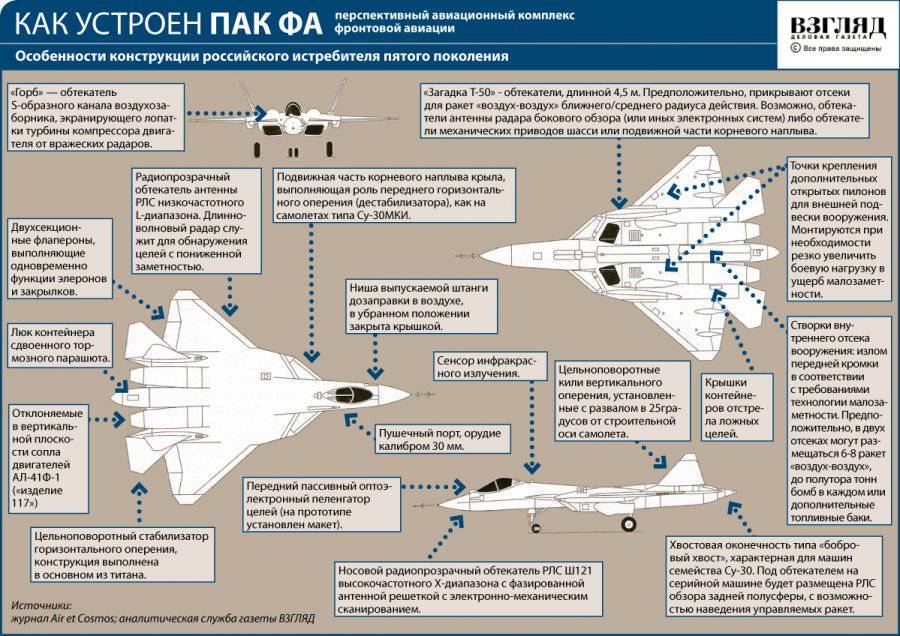 The famous Brazilian military Internet resource www.aereo.jor.br reports on the results of the Moscow International Aviation and Space Exhibition MAKS-2011.
Corporation KTRV (tactical missile weapons) is developing air combat missiles for the fifth generation fighter T-50 PAKFA. Two missiles RVV-MD (base - P-77) will be placed in the internal compartments located in the root of the wing. Two or three medium-range and long-range missiles (in the photo, an RVV-BD rocket based on the URP-33E) will be placed in two central compartments
weapons
. The long-range missile has a mass of 510 kg and a range of 200 km (P-33 - 120 km).
KTRV also introduced a new UAB KAB-250. This bomb follows the concept of American SDB ("smart bombs") and can be placed in large numbers in the internal compartments of the aircraft.
Also were demonstrated on-board radar with AFAR and L-band sensors, which will be installed in the root of the wing. The 101 KS-8 and 101 KS-0 infrared sensors were shown (the latter is located at the rear of the aircraft). But their round shape does not meet the requirements of stealth. It was also stated that the PAK FA will be equipped with an EW 101 KS-N container system.
Thus, up to 6-8 air combat missiles (two short-range missiles in the wing root compartments, four long-range missiles or six medium-range missiles in the two central compartments) can be placed on the PAKFA.
Ctrl Enter
Noticed a mistake Highlight text and press. Ctrl + Enter