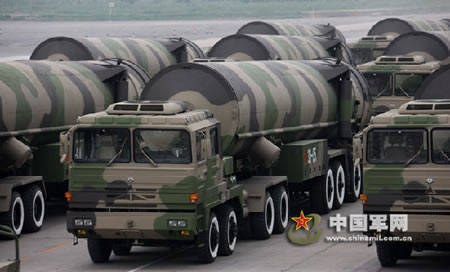 26 August China once again condemned the Pentagon's annual report on the country's military capabilities. The report says that China's military modernization could destabilize the situation in the region. Beijing assessed these findings as exaggerated on the basis of "unfounded suspicions."
"China is expressing strong discontent and strong protest," said a spokesman for the Chinese Ministry of Defense. "It's quite natural that as technology develops, China is developing new types of weapons and modernizing existing ones," he added.
The Pentagon's report expresses concern over the growing Chinese military might, including China's desire to ensure military superiority over Taiwan, which Beijing considers to be the subject of its own sovereignty. The Pentagon referred to the launch of an anti-ship ballistic missile, "embryonic" work on the creation of an aircraft carrier and the development of the first stealth fighter. The US Department of Defense also suspected that cyber attacks on US government computers in 2010 probably came from within China.
"The United States is engaged in unfounded suspicions about the Chinese threat to the security of Internet space. The Pentagon's report cruelly distorts the facts, and this study does not stand up to scrutiny, "said a spokesman for China's defense department.
Military budget
In 2011, China announced that the country's military budget is planned at 601,1 billion yuan (91,5 billion US dollars), which is 12,7% more than the level of 2010 of the year. But many experts believe that the actual defense expenditures of China with its armed forces of 2,3 million people are much larger. In turn, the Pentagon for 2012 year announced its budget in the amount of 553 billion, which is 22 billion more than in the 2010 year.