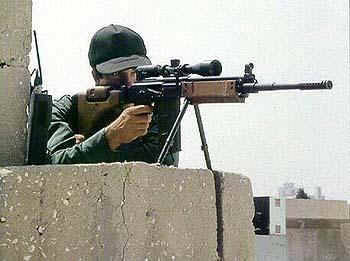 The Israel Defense Forces snipers will be equipped with new equipment that will increase the accuracy of shooting. Lenta.Ru reports that, as referring to The Jerusalem Post, new weapons will be issued as part of a program providing for the reduction of mortality during dispersals of demonstrations.
The military will receive laser targeting systems that allow you to work in poor visibility at a distance of up to a kilometer from the target. The system was developed by Elbit Systems.
A proposal to use such systems was made by the leadership of the military airborne brigade "Tsankhanim". The initiative was launched shortly after the incident on the border of Israel and Syria in June of this year, when the IDF soldiers were forced to open fire on demonstrators trying to cross the border. Then killed ten to 23 people.
Under the new rules, as noted by The Jerusalem Post, snipers can shoot mainly on the legs of demonstrators. In addition, at the disposal of the Israeli army received several types of non-lethal
weapons
, which will allow disperse demonstrations with minimal sacrifices.
The decision to reduce mortality during the dispersal of protests was made shortly before the alleged declaration of independence by the Palestinian National Authority (PNA). The relevant resolution is expected to be presented at the time of the opening of the UN General Assembly on September 20. Israel, with US support, opposes such a move by the Palestinians. Experts talk about mass protests in the occupied territories. And this, according to some projections, could lead to a third intifada.
In 1948, fierce fighting broke out in Palestine, which had previously been under a British mandate, in which Israelis were confronted by both Palestinians and armed forces from the countries of the Arab world. The war ended with the victory of Israel, who managed to increase its territory at the expense of areas that the Palestinians were supposed to receive according to the initial plans. According to the UN, more than 700 thousand Palestinians were forced to leave their homes and lands as a result of hostilities.