In Syria, the fighting began with deserters from the government army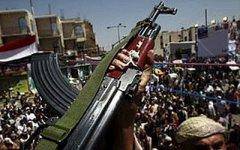 The troops of Bashar al-Assad began fighting with the military, who went over to the side of the opposition. The fighting began on Sunday night, 28 August, in the suburbs of Damascus.
The soldiers deserted after they were given the order to open fire for another anti-government demonstration in the Syrian capital. Dozens of servicemen said they did not want to shoot at unarmed fellow citizens, and left the army, reports RIA "
News
". Now fights between deserters and government troops are seen in the area of ​​al-Gout, which is located in the suburbs of Damascus. Eyewitnesses report that heavy machine guns are fired at rebellious military men, and those answer are from
weapons
.
Earlier, the opposition has repeatedly declared an increase in the number of deserters due to the worsening situation in the country, but the official government denies this. Mass riots in Syria began in the early spring of the 2011 of the year, very soon protest moods swept a large part of the country. Dissatisfied people demand a change of power in the country and democratic reforms. According to the UN, more than 2200 people have already died in clashes between demonstrators and the military.
Ctrl Enter
Noticed a mistake Highlight text and press. Ctrl + Enter