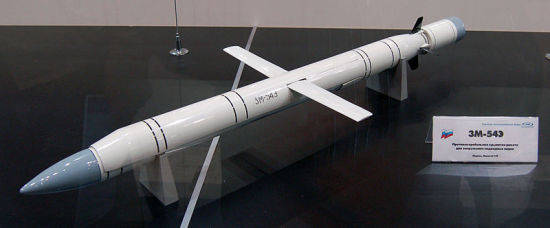 The American Research Center Heritage Foundation has published an article that China is interested in acquiring a Russian "Club" cruise missile to equip submarines Type 93, DEPL Type 041 and Kilo (the latter are supplied by Russia).
The article also says that Russia is promoting a container complex with such rockets under the "Club-K" symbol on the world arms market. In the standard cargo container four missiles with a retractable device are placed, the complex is served by two operators who carry out satellite communications and guidance of the missile to the target. In NATO, the rocket "Club" received the designation SS-N-27 Sizzler.
The container complex received the informal name "Pandora's Box" in the media. "Club-K" can be placed on civilian container ships. The article states that Club K can interact with the GPS satellite system and GLONASS, in addition, in the future it can be compatible with the Chinese Beidou 2 (in translation compass - editor's note) and European Galileo ".
According to the testimony of Jane's Defense Weekly, the KR "Club" was developed on the basis of the KR land-based PK-55 and the X-55 airborne, which can carry nuclear warheads with 200 CT. In addition, the rocket can be equipped with an electromagnetic warhead.
Equipped with "Club-K" missiles, a civilian ship can attack commercial vessels in the narrow waters of the Strait of Hormuz or Malacca Strait, and cause an unexpected military conflict.
The article notes that China, using such missiles deployed in civilian container ships, can deliver sudden strikes against US naval bases. Club K can also purchase India to use against China and Pakistan. Other countries, such as Iran, can also acquire these complexes after the UN sanctions are lifted. US researchers note that the system
weapons
Club K can shake the basics of international trade. These missiles can be placed not only on sea container ships, but also on trains and trucks, and strike without any warning. The report's authors write that the US and its allies, their military and intelligence agencies should pay close attention to this "Pandora's box" in order to open the threat in advance.