Sometimes during armed conflicts, the military face a situation when it is necessary to stop an aggressive, but unarmed crowd. To use standard weapons that are installed on tanks and armored vehicles means to destroy a huge number of people, but this is unacceptable and will undoubtedly lead to an escalation of the conflict and its transition to another direction when all the inhabitants of the country rally against the occupiers. The American army faced similar problems during the asymmetric wars in Afghanistan and Iraq.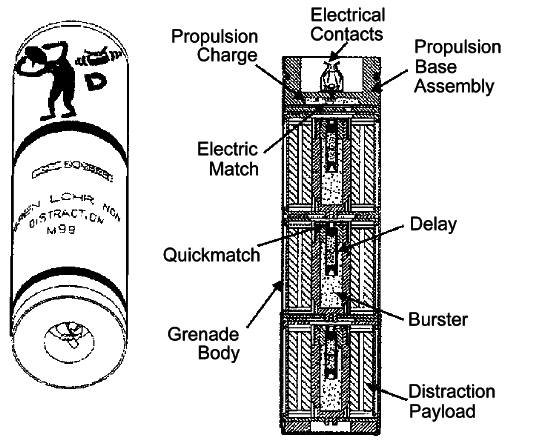 Fill this gap in armament
tanks
and armored vehicles should non-lethal ammunition type M-98, tests of which were carried out in the spring of this year. According to the test results, the ammunition received quite high marks and a decision was made to put it into mass production. Now he will enter the standard armament of tanks, infantry fighting vehicles, etc. The first 1899 M-98 units have already arrived at the US Army warehouse in Indiana and are available for use by US forces.
It is intended to use a new ammunition in case of need to immediately stop the unrest of the civilian unarmed population or to prevent civilian vehicles that refuse to respond to other signals. M-98 does not cause serious harm to people and allows you to work with minimal risk of killing civilians and soldiers.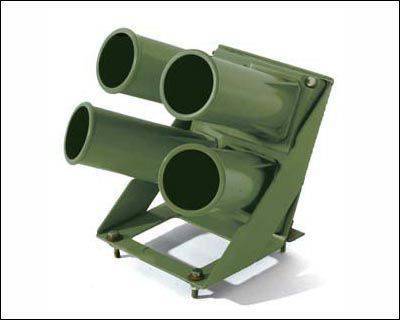 Lightweight plastic launchers for shooting M-98 can be installed on almost any vehicle
Ammunition of the M-98 type is an 66-mm grenade, which is fired from standard LVOSS-class grenade launchers designed for shooting camouflage smoke grenades. Such grenade launchers are mounted on the hulls of armored vehicles and tank turrets. The grenade has a range of up to 150 meters and includes three submunitions that explode to create a huge flash and a loud sound. M-98 weighs 730 g and is made of cardboard and nylon - in order to minimize the possible risk of lethal fragments. A new grenade is fired at a speed of 160 m / s and, after 4,5 seconds, explodes, creating a sonic impact with 170 dB and a flash, which stun and disorient people within 10-15 meters. The cost of one grenade is about 200 dollars.