Today on the "Military Review" came out
news
that the car of the OSCE mission came under fire in 50 km north of Donetsk at the moment when it was accompanied by Ukrainian military personnel. It is surprising how quickly the officials in Washington responded to this attack. Not passed since the shelling and several hours, as Jen Psaki broke out a comment in which she announced that the militia had fired upon the OSCE mission. Reports about it
TASS
.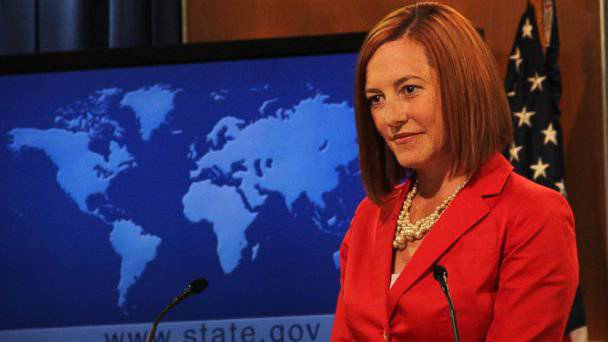 Wow! To identify the perpetrators of the shelling, Ms. Psaki didn't even need to "work in her office" ... But in a situation where another car of the OSCE mission, accompanied by militiamen, in the Donbass a few weeks ago, the Ukrainian military were shelled, Psaki never bothered to give detailed comment.
It seems that the shelling of the OSCE car was staged to allow Washington to make accusatory statements against the militias of New Russia. Indirectly, this version can be confirmed not only by an early comment from Psaki, but also by the fact that after the shelling from a "grenade launcher and anti-aircraft gun" (this is exactly how the situation in Ukraine was presented), none of the mission representatives and the accompanying ones suffered.
By the way, is Washington going to give a detailed comment on who is responsible for racial discrimination and the arbitrariness of the police in the United States in connection with certain events. Or is it easier and more familiar to identify the perpetrators in countries located thousands of kilometers from Washington than to arrange a debriefing in their own country?