The airborne forces are planning to train around 300 fighters by the end of next year, who will be able to jump from 8-kilometer height, reports
Rossiyskaya Gazeta
with reference to the representative of the press service of the Ministry of Defense Yevgeny Meshkov.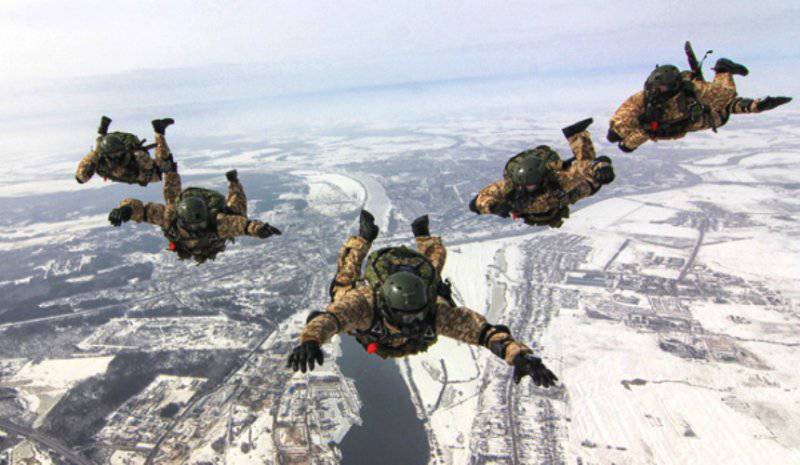 According to the plans of the command, a battalion will appear in the airborne forces, capable of landing from heights from 4-x to 8 km and a unit of instructors in altitude-landing training.
"The basic training program for high-altitude specialists is designed for five to ten weeks, taking into account practical parachute jumps from 100 to 250, with a delayed opening of the main parachute from 80 to 130 seconds," said Meshkov.
The representative of the military department immediately made a reservation that "there will be no mass leaps from exorbitant heights, this is the privilege of intelligence officers and other special forces". "In addition, not" Crossbows "will be used for combat use, with the help of which one can only train, but completely different and still secret parachute systems," he explained.
The possibility of jumping from a great height was studied not only in Russia, but also in the USA. By the way, there such jumps became already routine, but they are also used only in special divisions.
And what gives high-altitude landing? According to the officer, the commando can leave the plane "for tens of kilometers from the planned landing site, then quietly plan and land straight to the point."
"Modern systems have a semi-automatic parachute control system at given coordinates. As a rule, the landing takes place at night, parachutes camouflaging coloring, and see the special forces in the sky is almost impossible. Such jumps are very difficult. In addition to weapons and other equipment on the paratrooper placed special oxygen equipment, "- he said.
The US has long been ahead of Russia in the high-altitude landing. The situation began to change several years ago, after the Chief of the General Staff approved the experimental program of special parachute training. According to Meshkov, this program has been mastered, and the created equipment and parachute systems are in the process of being put into service. Domestic products in terms of characteristics are not inferior to American ones and allow you to perform tasks anywhere in the world.