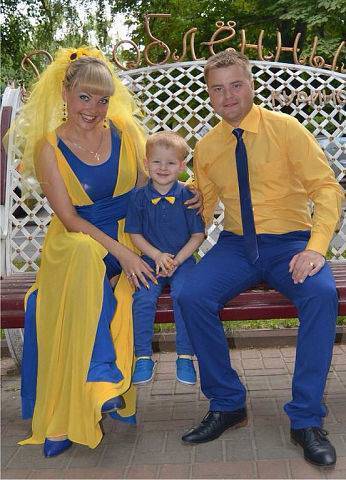 ... There it is, it turns out! Now it is clear why everything in Ukraine thinks better, but it turns out as always. As a flatfoot impotent, who can neither, sorry, trample a woman, nor serve in the army. And the rudiments and atavisms that all, without exception, the people elected to the new convocation of the Verkhovna Rada of 26 of October this year are to blame for. Even women, and those in rudiments. And it turned out that none other than a theoretician of Ukrainian love and an expert on Ukrainian natural and simple wonders, Nikolai Tomenko. He himself has been in the Rada since 2002, and has even twice been vice speaker
.
Consequently, I saw enough of these deputies, and finally found out what was wrong and why.
But if you thought that the vigilant ex-vice-speaker found someone's horns under a wig, indecent spots on the body, claws in fashionable shoes or tails and various extra tips in the most hidden places behind and in front, this is not so. It is possible, of course, that someone has it all, but Tomenko says something completely different. According to him, in the Rada all this time, since Ukraine gained independence in 1991, the people who did not claim to be secretly worked secretly. They were called "people's deputies of Ukraine", but in fact "wildly and cynically" (this definition of Tomenko) were not popular, anti-popular, just deputies and even Nikolay was not afraid of this word members. Parliament, of course, rather than what could be thought of, given the prospector's penchant for theoretical love with national color and to the music of Greenjol.
And this year Tomenko is again elected, but does not intend to share one more hall with those who are rudimentary and atavistic in their anti-Ukrainian nature, which makes the principled Nikolai Vladimirovich even scratch himself in indecent places from monstrous in strength and passion of non-perception. "It is clear that the roots of this term (People's Deputy - Author) lead to the so-called democracy of the times of Soviet Ukraine. But recent events in Ukraine have shown not only a discrepancy, but at times even the wildness and cynicism of this term, when "people's deputies" supported the occupation of the Crimea or Russian aggression in the east of Ukraine, "he said.
He added that, in his opinion, it was non-popular, anti-people deputies and even members refused to recognize the DPR and the LPR in the Donbas as terrorist organizations or even earlier asked the Polish Sejm to recognize the Volyn massacre of 1943 as the genocide of the Poles and condemn the actions of the Ukrainian Nazis, who were engaged in total destruction Polish population in the framework of the then creation of "Ukrainian Ukraine".
Now Tomenko wants a national and
historical
justice. Namely: in the new Constitution, provide for the reduction of the deputy corps from 450 to 300 people, their election on open party lists and the transformation of the Verkhovna Rada into a full-fledged European parliament. By renaming "people's deputies of Ukraine" into "deputies of the Verkhovna Rada" or - here it is! - "members of parliament." "So to fix it - a" member of parliament "," Tomenko is sure, apparently believing that he will be his brain in this very parliament.
Well what can I say? Yes, you have to do it. After all, the Verkhovna Rada has nothing more to do. The hryvnia is stable, the economy shows such "tiger" growth rates that the former East Asian "tigers" like Singapore or South Korea never dreamed of. The standard of living of the population is such that retired people use pennies in remnants of pensions, so that dilapidated notes do not accumulate in the house and litter living space. And Ukraine itself is literally fighting off along the entire perimeter of its borders from the territories of neighboring countries who want to enter a prosperous state and there, finally, to find earthly happiness. And forget about those cases of mass hara-kiri, which are periodically made by the neighboring mixed tribes from envy to the heavenly progeny of Tripoli culture, living through life. Moreover, I don't remember at all the Russian-speaking Crimea, which for the above reason (envy of Ukraine) self-destructed overnight, leaving the land to the Crimean Tatars, who immediately returned to the Ukrainian womb together with the peninsula. And I don't want to talk about what is happening in the Donbas. There, everyone walks unhappy and dull, with heads bald and red from injuries — hair pulled out at the root makes itself felt, and Ukraine's successes are poisoning an already worthless and hateful existence ...
Yes, to be sure, Tomenko knows that the country needs it most. After all, he was also the humanitarian deputy prime minister; he knows the most hidden nooks in the popular soul. And he was almost overtaken by all kinds of rewriters of history, nimble Trypillian archeologists, newly-minted experts of the OUN-UPA and the suddenly-sighted creators of new traditions rooted deep into the millennia. What are you thinking, bastards! They wanted, for example, to change the look of the whole country without it and repaint everything in yellow-blue tones. Or dump all the monuments to Lenin and his associates. Or, taking advantage of the New Year's moment and approaching, we intended to seize the initiative from the presidential adviser and make the nation freed from Santa Claus and the Snow Maiden and replace them with Saint Nicholas or, at worst, Santa Claus, who would give cookies to children with Victoria Nuland's face and adults.
No, repainting a country into bicolor is important; it also distracts those who are able to think from unnecessary reflections. And hanging Santa Claus with his wildly-cynical moskalskoy granddaughter at every high and prominent place - the case, of course, is also important and necessary - the nation will appreciate, should appreciate. But does this really have to be done when so many bastards, hidden "quilted jackets", "Colorado" and just secret stuff, who know Russian and who is Vladimir Putin, gathered in the Verkhovna Rada? No, it is necessary to see the root. And to vigilant Tomenko such things do not pass ...
In addition, it is time to teach this very Ukrainian people that if they want to be at the height of the tasks that history and generous Nuland have set for them, then they should stop electing "non-people" and "anti-people" deputies. Members - please, but not anti-people. But then Tomenko will be completely angry, will write another book and will declare an unseen part of the people "unpopular" and even "anti-people". And then what to do? How to live when such a deserved person refuses to trust?
But Tomenko is exactly Tomenko - he is in bed. So the glory of the nation is death to the enemies. And where are the "spies"? Yes, everywhere, you just have to look and look ...
PS And at the same time, when they will rewrite the Constitution, it should also provide for the dress code of Svidomo Ukrainian and patriot, so that from a distance it could be seen that it's not a "jacket" that steers towards you, but your own. Cases in the country are all redone, you can think about the appearance. This is such a lightweight version. Che, cool and inexpensive: