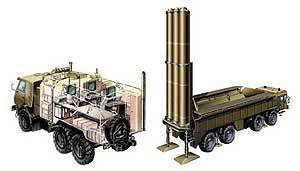 Vietnam is negotiating with Russia to purchase additional K-300P Bastion-P PBRK, according to Jane's Defense Weekly, citing the Vietnamese news agency. It is expected that the unnamed number of the Bastion-P complexes, which will be shipped to Vietnam in 2014 g, will be acquired through a Russian loan.
Hanoi ordered an unknown number of Bastion-P complexes in 2005, deliveries began in 2009, the publication says. Bastion-P was developed by the Russian NPO Mashinostroenia, the missile is produced by the Strela PO. The Belarusian Tekhnosoyuzproekt together with NPO Mashinostroeniya is responsible for the development and production of mobile launchers and transport-charging machines.
According to Jane's, the latest Vietnamese order of the Bastion-P systems is the most recent purchase of systems for the protection of its marine resources by this country and the most recent contract with Russia.
Procurement for the People's Naval Forces of Vietnam mainly concerns Russian-made equipment and includes six diesel-electric Kilo class subframes (636 Ave.), the first of which should be delivered in 2015-16, additional high-speed patrol boats of Svetlyak class (1041.2 project) and two Cheetah class frigates (11661 project), the second of which was received by Vietnam at the end of July 2011.
In addition, in the 2009, the People's Navy of Vietnam ordered eight Su-30MK2 fighters in Russia, and in May 2010 ordered six Canadian-produced amphibious aircraft DHC-6 Twin Otter 400 series. The Vietnamese Maritime Police, the Coast Guard, which is part of the Navy, purchased three light C-212-400 transport aircraft from the Airbus Military concern, the first of which was delivered in July.
After the Vietnam National Assembly 13 session in early August, Defense Minister General Fung Quang Thanh indicated that this military modernization is seen as a priority in light of the government's commitment to safeguard its interests in the South China Sea, a region where Vietnam has great resources, especially oil and gas. , and where China is increasing its military potential by building a submarine base on Hainan Island.
Relations between the two countries are heating up even more because of disputes over the ownership of the Paracel Islands in the South China Sea and the demarcation of the sea borders at the entrance to the Gulf of Tonkin.
General Thanh stated: "We have identified the navy, maritime police and border guard services as key forces to protect our sovereignty and maritime security [in the South China Sea]. We must protect territorial sovereignty ... [and] the Vietnamese fleet should have good relations with neighboring countries in order to jointly maintain security at sea. "