In Donetsk, there remains about 700-720 thousand inhabitants, reports
RIA News
the words of the mayor of the city, Igor Martynov, spoken at a meeting in the mayor's office. Previously (until the spring of this city) about 950 thousands lived here.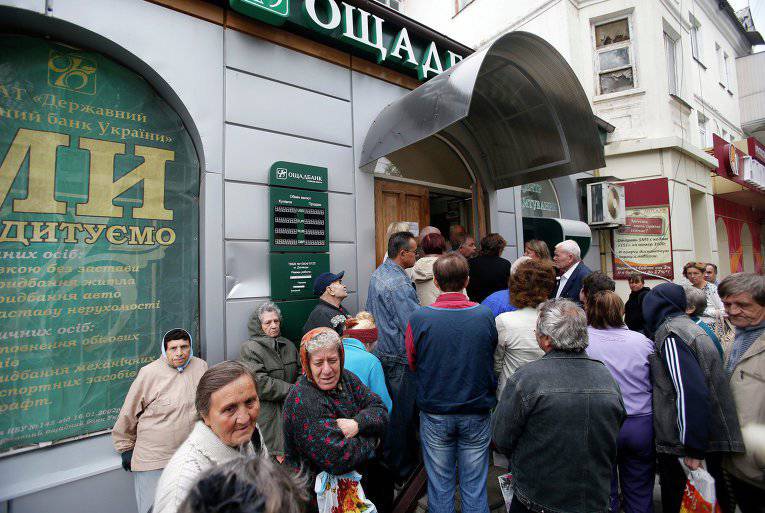 "About 700-720 thousand inhabitants remain. Remained the most persistent. If the fighting stops, thousands of 150 will return, "said Martynov.
The city is constantly subjected to shelling, cash out of ATMs. To withdraw money from bank cards was not easy. There are long queues at working ATMs.
Earlier, Poroshenko signed a decree obliging the National Bank until December 1 to stop servicing all accounts in the territories under the control of the militia, that is, in New Russia.
"I received a pension through Oschadbank. I have 3 thousand hryvnias left in my account (about 198 dollars). But I can not remove them. There is no money in the ATM. Already a week no. How to live? I can't even buy medicine, "the pensioner complains.
Earlier, money could still be withdrawn in the Makeyevka branch of Oschadbank, the only financial institution in the DPR, where cash was available all the time. Now on the ATM flaunts sign: "No money." However, several dozen pensioners still lined up.
"We stand, just to check how much money is left on the card, whether a new pension has come," explains one of them.
"I went around the whole city. I can't withdraw money anywhere, I can't take my honestly earned money, "said a local resident.
But it appeared
news
that money can be withdrawn at the Prominvestbank ATM located in the center of Makeyevka.
Indeed, the ATM worked, but did not give out cash to everyone. "The announcement hangs that only to customers of Prominvestbank issues. If you have another bank card, better not stand, "advises the girl from the queue.
According to her, the ATM was refueled with cash only today. "Thursday, Friday, Saturday came here. Every day, how to work. ATM was empty. Today afternoon refueled. I hope there is enough money and I can withdraw my salary, "she said and added that she agreed to stand in the 2-3 queue for an hour, just to get her own money. Another opportunity may not be.
Those who are unlucky are forced to go to the territory occupied by the Kiev security forces. "On Wednesday I will go to Kurakhovo or Konstantinovka. The question is where to get the money now. Cash is a big problem, and you won't pay off a card with a driver on the bus, "one of the local residents said.