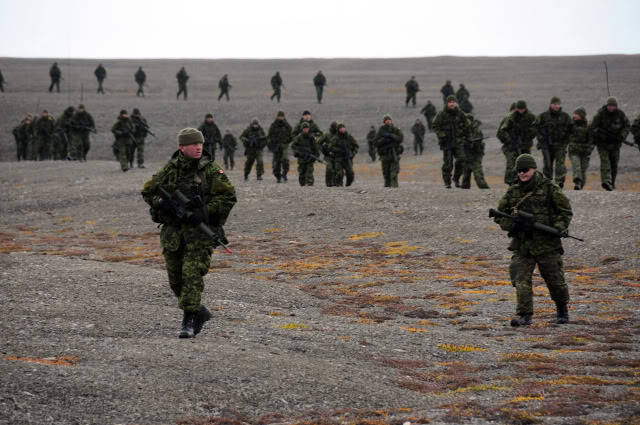 Canadian Army military exercises in the Arctic, codenamed Nanook, were visited by Prime Minister Stephen Harper. A Canadian politician intends to make a report on economic initiatives for the development of the Arctic. Thus, the leadership of Canada explicitly hints at the readiness to bolster economic interests with military force.
In the traditional Nanook exercises, Arctic troops from Canada, the United States and Denmark take part, reports NEWS.RU.com, 23 August.
Global warming leads to a decrease in the area and thinning of the Arctic ice sheet. According to some estimates, the Arctic ice can completely melt by the 2030 year. Meanwhile, the region contains 30% of undeveloped gas reserves and about 13% of oil reserves on our planet.
In these conditions, the Arctic powers are preparing hard for future battles in the area. This year, Russia made a decision to convert the two regiments of the Airborne Forces into an Arctic division, previously similar decisions were made by Canada and Denmark. Commenting on the geopolitical situation in the region, Canadian scientist Rob Hubert said bluntly: "Contrary to public statements about peace and cooperation in the Arctic coming from the Arctic states, the strategic value of this region is growing. And as it grows, each state attaches increasing importance to its own national interests in the region. The Arctic states can talk about cooperation, but they are preparing for a conflict. "
However, while the case is limited to international lawsuits. Russia is trying to prove that the underwater ridge of Lomonosov is part of its territorial shelf, and Canada is calling on the international community to begin the joint development of Arctic wealth, including in areas that, according to Moscow, are part of Russian territory.