The first prototype of the expected new domestic helicopter Mi-171А2 began passing flight tests, passes
RIA News
with reference to the press service of Russian Helicopters.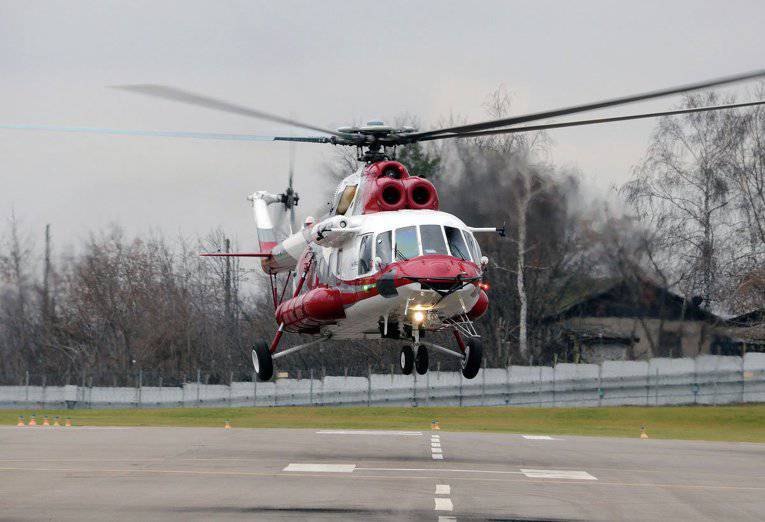 "Holding" Helicopters of Russia "has started flight tests of the first prototype of a multipurpose helicopter Mi-171A2. During the first flight, the operation of its main systems was checked. A complete list of design changes, including a new main and tail rotors, as well as increased vertical plane and the horizontal tail, will be introduced on the second prototype of the Mi-171A2 "- said in a press release.
The main systems of the helicopter "demonstrated excellent performance." It is noted that "The first prototype of the Mi-171А2 is designed to assess the performance and safety of flights with a complex of onboard equipment." Earlier, the car passed the ground racing mode, which ended with the rise of the helicopter in October of the current year and the "hovering test cycle". The engine and carrier system were tested on the Mi-171LL Flying Lab.
"According to the results of the first test cycle of the flying laboratory, an increase in cruising and maximum flight speeds by 20%, an increase in the thrust of the rotor (by more than 800 kg), a decrease in the vibration level with the standard vibration damper were recorded. Confirmation of the maximum declared speed of the helicopter in 280 km / h has been received, "the message indicates.
According to the press service, "the second prototype of the Mi-171А2 will be equipped with an additional set of optional equipment: an external suspension with a payload of up to 5 tons with a weight measurement system, an air conditioning system, energy-absorbing passenger seats on 24 people, dust-proof devices with a high degree of air purification up to 97% ". The second sample is assembled at the Moscow Helicopter Plant. Mile
Help RIA "
News
":
"Russian Helicopters OJSC (part of Rostec State Corporation) is one of the world leaders in the helicopter industry, the only developer and manufacturer of helicopters in Russia. The buyers of the holding's products are the Ministry of Defense of Russia, the Ministry of Internal Affairs of Russia, the Ministry of Emergency Situations of Russia, Gazprom Avia Airlines and UTair, large Russian and foreign companies. In 2013, the revenue of Russian Helicopters under IFRS increased by 10% and reached 138,3 billion rubles, the volume of deliveries amounted to 275 helicopters. "