Gorbachev yesterday
Mikhail Gorbachev 2011:
Putin is better off now. He had better give up the fight for the presidency.
Mikhail Gorbachev 2012:
Putin will not succeed in fooling Russians with an imitation of democracy.
Mikhail Gorbachev 2012:
Putin completely let himself go.
Mikhail Gorbachev 2013:
(In Russia, in progress) attack on the rights of citizens. It amazes me simply. (...) In this state, the country (Russia) will drift like an ice floe in the Arctic Ocean.
Mikhail Gorbachev 2013:
He (Vladimir Putin) even suggested that I bite my tongue.
Gorbachev today
Mikhail Gorbachev 2014:
I support the actions of the Russian authorities.
Mikhail Gorbachev 2014:
Putin is a president, an accomplished president.
Mikhail Gorbachev 2014:
Using its sovereignty, Crimea spoke in favor of a desire to be with Russia. So, this is happiness. This is freedom of choice, without which there should be nothing.
Mikhail Gorbachev 2014:
If earlier Crimea was annexed to Ukraine according to Soviet laws, that is, according to party laws, without asking the people, now the people themselves have decided to correct this mistake. This should be welcomed, not sanctioned for it.
Mikhail Gorbachev 2014:
Obama is a lame duck. Finish your work can not be so stupid. I decided to throw charges. It seems they met with our president, said hello. But there will be no sense from him, but pity. I thought about him better.
Mikhail Gorbachev 2014:
We have one major fever - America and its claims for leadership. This is not even a political dialogue, but abuse.
Mikhail Gorbachev 2014:
Putin played an important role in stabilizing the country after Yeltsin.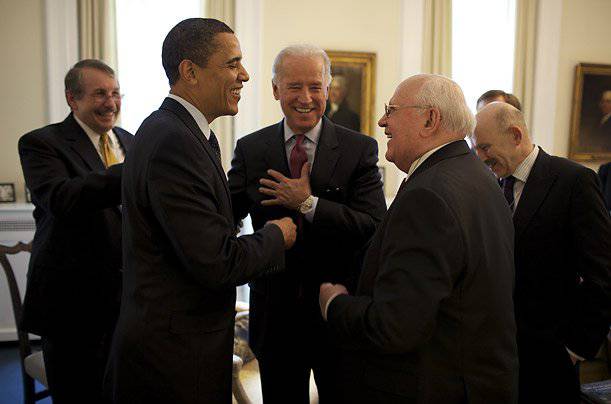 What an amazing metamorphosis occurred with the former General Secretary of the Central Committee of the CPSU, the first and last president of the Soviet Union? Frank pro-Western rhetoric, which practically at all times (both during the government of the country and after it) distinguished Mikhail Sergeyevich, suddenly became diametrically opposite. Considering Gorbachev's age, it would seem that one can expect anything, anything, but the attitude towards politics, towards the Russian authorities, towards the reaction of the West is unlikely. Russia's actions could not be changed by Gorbachev solely by virtue of age.
In a number of media outlets and blogs about the change of Gorbachev's rhetoric, there appeared similar opinions of several authors. Opinions lie in the fact that Gorbachev did not change his words himself, but was allegedly used by the West in this way to make a deal with Russia. One of the variants of such a deal is the possibility to recognize Crimea as part of Russia in exchange for the fact that Russia will merge the Donbass. They say that Gorbachev uses the same US for an undercover game with respect to Russia and Ukraine.
The opinion is certainly interesting, but with all due respect to the people who expressed it, this opinion can hardly be called a reflection of reality. In the end, it's not the hopeless idiots who sit in the power of the USA to try to advance their plans (if the idea of ​​some kind of "exchange of confessions" exists at all) through Gorbachev. In the West, they know very well how the overwhelming majority of Russians relate to Mikhail Sergeyevich.
The overwhelming majority of Russian citizens of this figure, to put it mildly, does not like it. Speaking more closely to reality: most Russians can use paper with the opinion printed on it. MS Gorbachev can only use it in one place ... Use it and press the drain button ... Well, it just so happens - you can't do anything about it.
If the same Washington really had an idea to advance its interests, using for this some Gorbachev upgrade, then Washington would only have to congratulate with the enchanting puncture, for the theses of the President of the USSR, by definition, cause persistent rejection or suspicion in the country. The ex-secretary general himself taught us to this with his promises, actions, arguments, now, paraphrasing a well-known expression, "do not blame the people", even if a stormy citizenship awoke.
In general, if the West wanted to fail in favor of Russia, then today it can safely entrust it to Gorbachev. Or does someone still count on a "shell" getting into the old funnel? .. Hardly. It seems that Mikhail Sergeevich simply decided to take advantage of the political situation in his own interests. He is well aware that criticizing Obama is the current trend (and not only, by the way, in Russia, but even in the USA itself), that supporting Russian foreign policy is also a trend. And he, as they say, is in trend. This gives GMS food for thought about the fact that you can get certain bonuses as a political guru, appear on the front pages of newspapers, on the air of central channels (and in Russia too), replenish material well-being, if possible - to procure another award - the State Prize, if it grows together ... And here grows together? - this is a question to those whom he is trying to cajole.