In Donetsk, a shell hit the passenger bus. The press service of the Ministry of Internal Affairs of the Donetsk People's Republic reports that as a result of the munition getting into the 2 vehicle, people were killed, and 8 were injured. The condition of at least three people is estimated as extremely difficult. Representative of the Ministry of Internal Affairs DNI quotes
RIA News
: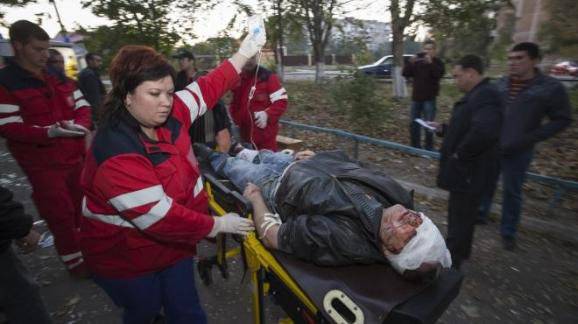 At around 7: In the morning, 30 hit a bus on a flight on the 6 route. The bus at that moment was in Kolkhozny Oktyabrsky village alley (Donetsk airport area). Two people died, seven more were wounded.
The same information is presented on their pages and Ukrainian media. At the same time, ukroSMI do not tell their readers who fired artillery shells not only with the bus, but also with the building of one of the Donetsk churches. As a result of the shelling of the temple, its dome was completely demolished. The shells split the building of the gas station and the store.
Denying that the shells came from the location of the Ukrainian security forces, most ukroSMI can not, knowing that the denial will look ridiculous (in the style of "they fired at themselves"), and therefore publish neutral words: "the projectile hit the Donetsk bus; unfortunately, there were no victims. "
Does not comment on this incident, as well as the report of the OSCE, which refers to the movements of the Ukroarmia of the MLRS "Uragan" in the area of ​​Debaltseve, and the Ukrainian command. A representative of the ATO press center, Dmitrashkovsky, tried to explain his silence about the movement of the deadly technology, saying:
I am not a representative of the OSCE and have no right to comment, because it is wrong to comment on the movement of equipment, thereby revealing the positions and direction of movement of military equipment. Maybe there was some kind of movement, but unfortunately I can't talk about it.
And there were victims too, but Dmitrashkovsky "cannot" talk about them too ...