In our conversation, Batman, who does not hide his real name, tried not to talk about the implementation of specific combat missions by the Rapid Response Team, which he commands, citing military secrets. He said only (apparently, it is not a secret) that his soldiers took part in the battles in the area of ​​the Lugansk airport, where they captured significant military trophies. In addition, Bednov-Batman admitted that today his fighters regularly take positions on the front line, which runs today along Bakhmutka (the highway from Lugansk to Pervomaisk-Gorsk-Lysychansk) and Stanichno-Lugansk district.
- What did you do before all these events?
- I was an ordinary retiree of the Ministry of Internal Affairs, a reserve officer, retired with the rank of captain in 2006, worked in the security service of various enterprises in the city. I have a family, a wife, two children, whom I was forced to, after everything began to turn out, to be taken out to another state.
- How did you get into the ranks of the "Army of the Southeast", why did you decide to fight for the independence of Donbass?
- I was very sensitive about what happened in Kiev in October-December. All these events - the Maidan, the coup d'état - naturally could not pass by me, because I myself was a law-abiding person and saw what wrongdoing was happening in the capital. I watched what the so-called peaceful demonstrators were doing, they were also "children", with police officers: they were beaten up there, burned alive. Such in every country of the world is called the gravest crime.
All that was going on then did not fit into any framework. And all this was served under the sauce of the crudest Russophobia, racial hatred, fascism, Nazism, the superiority of the Ukrainian nation over all others. And when this wave of unrest came to us all the same in March, when the Serpokrylov brothers (the leaders of the headquarters of the political party "UDAR" in the Luhansk region - the author's note) arranged the radicals of our local spill - shooting at the Young Guard guys (one of first organizations created at the beginning of the movement by supporters of the referendum - auth.), when our young comrades were wounded, it was then that I realized that the jokes were over.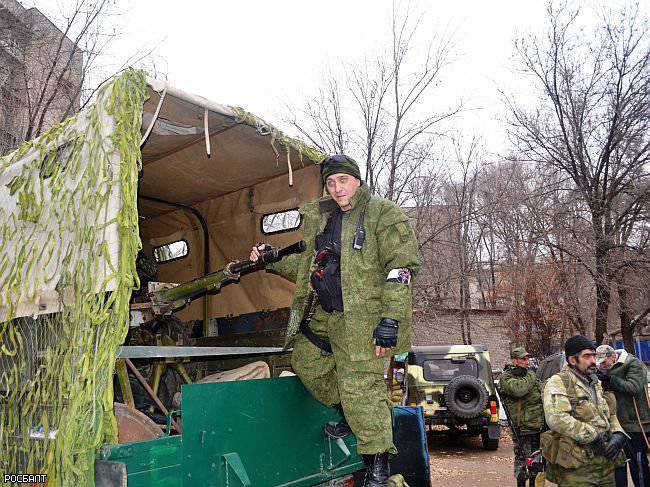 I realized that the question is simply about the survival of Russian-speaking people. And this is not an exaggeration, because when the brutal youngsters "bleed", it became clear that this would not end by itself, and we need to protect ourselves. And when, after the seizure of the building of the Security Service of Ukraine, peaceful protests took place, and
weapons
the streets were not there yet, the militiamen of our city in Kiev were called traitors, and troops with heavy equipment moved here. Therefore, it was clear that they were going to destroy us, and we were forced to take guns into our hands.
At first, my wife was very worried and was unhappy that I participated in protest actions, she was worried about me, because I am not a stranger to her, but she was always morally on my side. And when the shelling of the city began, she already had a clear conviction that she had to fight, not to sit still, otherwise we would be destroyed.
- How did it happen that you headed the "Army of the Southeast" division, which is now called the "elite"?
- Initially, I joined the movement of Aleksei Brain and was in the "People's Militia of the Luhansk Region" that he had formed. And when military units began to organize here, those friends with whom I came to the militia told me: "Sanych, you need to be a commander because you are an officer, you have both organizational and military experience." They were really right, because in the police I was the commander of a special-purpose company and naturally there was experience. I clearly realized that when people trust you they can not be denied, you need to justify their trust, that's how I became a commander.
- Tell us, what is your current service, and what does your RDT "Batman" do?
"I'm doing ... war." I support the combat readiness of a large military unit, providing servicemen with food, clothing, equipment, weapons, ammunition. This is a whole complex of cares and tasks that any commander faces and which he must perform. After all, it's easy to call yourself a commander, but to be very troublesome and responsible.
I am by no means complaining. As a commander, I take responsibility for each of my fighters, I believe that people who defend their land with arms should be protected from all domestic problems, and commanders should ensure normal conditions for people. For me, every fighter is a person with his own inner world, with his worries and worldview. This is not cannon fodder, not a cog in a huge organism, it is, first of all, a man and I always push off from this.
My unit is very versatile. We perform different tasks. I can't tell you about all of them, but I'll note that including us, we are now engaged in law enforcement, because this system has just started to work with us. She is still taking her first steps. Now we had to assume the role of the police, because when there was the most active, hot phase of the hostilities, then the law enforcement system did not work at all, and order in the rear in the city had to be respected. And since it's close to me, we have taken on these responsibilities and people began to turn to us for help.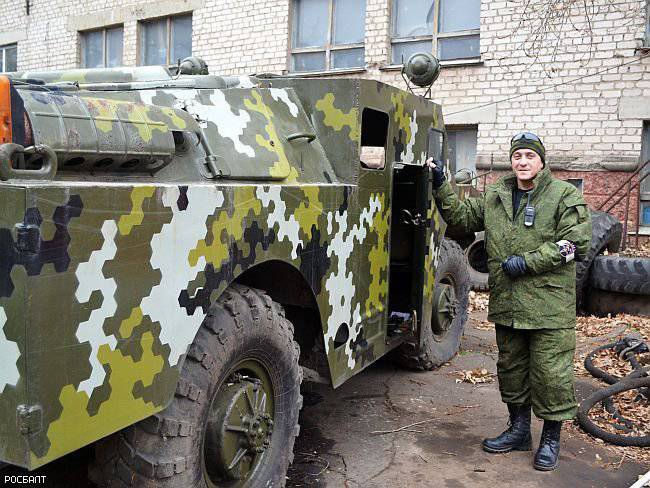 - About what?
- Most often it was domestic drunkenness, hooliganism, fights. There were, of course, the facts of looting and theft. We detained several people for murder, they were arrested and are awaiting trial. Preliminary materials on them are collected and documented as expected.
And drunkards and family hooligans-rowdies got and come to us for re-education. By the way, we have a dry law in the division. We never took fines from anyone, people atoned for their sins, for example, by digging trenches. Here these drunks work, and amazing things happened - a few people recovered! And one of the detainees, after serving 10 for 24 hours, even asked to leave him with us so that he would not drink again. As it turned out, the man has golden hands, we identified him in our repair shop, he turned out to be an excellent gunsmith.
- Has the State Security Committee managed to influence the growth of crime in Lugansk?
- At our base, this is the Zhovtnevyi district of Lugansk, in the beginning a wave of crime rose, because during the fighting the city was not essentially a militia, and after we arrived here, in the surrounding neighborhoods it became quieter and calmer. People knew that they could turn to us and always get help, and villains and scoundrels would be tamed and would suffer a deserved punishment.
- Who is in your group?
- Basically, these are all our countrymen, Luhansk residents, residents of the region. There are, of course, several volunteers from Russia, but these are not the "mercenaries" that are spoken of in Kiev. These people, Russians, are those who came to defend the Russian-speaking people of Donbass.
I had a case when in the summer two students from the Russian Federation came to us with a request to take them to us. I refused them, because they were not at all prepared for war, they even never had a weapon in their hands. Maybe they will become excellent scientists in the future, but they cannot go to war. The guys then moved away from me, talked about something and came up again. They asked to leave them in the unit so that they could at least help us something. I then conferred with the commanders, and we identified the students in the household part. There they 1,5 of the month that were here, recounted humanitarian aid, ammunition, helped in the kitchen, in general, were engaged in "our home", but, in any case, were not the attendants. When they left, I completely sincerely told them that they also took part in the hostilities, because the rear is also a front.
- Have you had any cases when the fighters left the RRT?
- I immediately tell everyone about the war without embellishment, I explain that combat romance is only in movies. I always give people time to think before joining our ranks, because participation in hostilities is in itself a very important and important step in the life of every person, and he must decide for himself whether he is ready to make such a sacrifice. I always tell people, you better tell your firm "no", than a thin "yes", and then drop your weapons and deserting from the battlefield, and your comrades will remain without cover. There were people who said no after our conversation, and we do not blame them, it is their choice.
- But you probably had to drive out?
- I have my own principle of acquisition. They come to me on the recommendation of those people whom I know personally, or those fighters who serve in the group. We in the GDI for any offense is responsible not only the person who committed it, but also the one who brought it.
In addition, with each arriving fighter, I have a preliminary conversation in which I talk about our orders. I have no flying at the unit, because every first case can be the last. If there is somewhere at least one small step away from the accepted rules, then the person is ruthlessly expelled. After all, the very identity of the GBR is already a kind of belonging to an elite unit and wearing a bat icon is a great honor, and it needs to be achieved.
All my fighters are interested in getting rid of the unworthy man. I always tell people that with their shameful actions, an unclean fighter will stain us all, and then we will have to wash off this stain. So the "rats" were chased away, of course, right away.
- Are there any women in your unit?
- Of course have. For example, my deputy is a woman, there are staff workers, cooks, girls in the personnel department work. But we have women in positions. For example, "Astra", which is currently being trained to become mortar. There are women snipers, medical orderlies. We don't have many of them, and, naturally, we treat them with some "trepidation", we try to protect them from all horrors. But some just rush into battle, want to be sure to be at the forefront.
- How did you manage to achieve perfect discipline?
- Mutual respect is the basis of my discipline. In our unit, it manifests itself from an ordinary soldier to a commander and vice versa. You cannot build anything on fear and intimidation, on idiotic orders, for example, "to build a fence from here to Monday". If relations and subordination are based on negative motivation, then nothing good will come of it: people will simply stop protecting you, they will turn around and leave, because why should they have such commanders and such a war. Our whole discipline is supported by respect and human respect, and so it should be everywhere.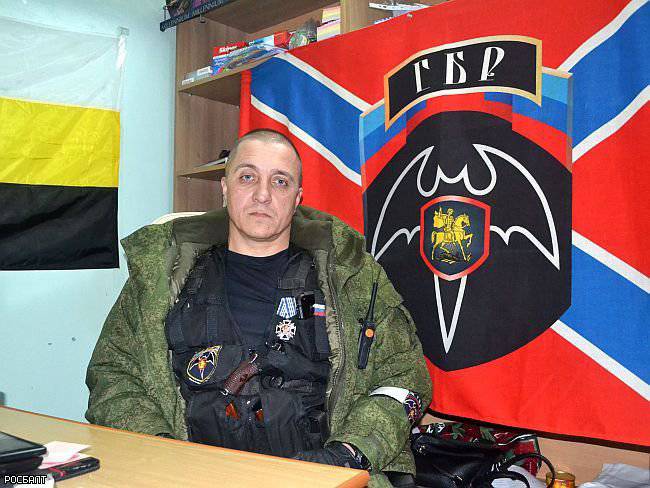 - And yet here you do not have a regular army. The term "field commander" as if he himself pushes towards "Makhnovshchina" or something. Did you have a desire to get out of submission to the center and to lead "your" war, following the example of Alexei Brain, perhaps the most famous militia commander in Russia today? After all, if you are a "comandante," it means that a politician is already.
- I am an adherent of the idea of ​​a single country - New Russia, I have never even divided us into Donetsk and Lugansk. For me, the LC and the DNI are one, and the boundaries between them are just a formality. In general, I am a statesman, I was born and grew up in a huge, powerful state of social justice, in the Soviet Union, so I never even had the idea of ​​some kind of "own" territory and its management. I have never thought about chopping off the "little farms" somewhere and being the "commander-in-chief" there. I am opposed to the specific principalities. We must have a single state, people united by one
history
, by faith alone.
By the way, I do not think that the Brain has made itself a separate "principality", as some say. The LPR exists within the borders of the former Luhansk region of Ukraine, and all the territories that are now under the control of different divisions are one state. All this land belongs to the people of Luhansk region and to no one else.
- But you are not a man without ambitions - even ran for the head of the LC, and how did it happen that the voters did not see your name in the ballot as a result?
- For technical reasons, it was not paid as a result. My friends and acquaintances were the most upset, but in general I am not. After all, for me it was a kind of "first attempt at writing." I believe that it was successful, because conversations on the Internet and in the city were positive. People reacted well to my initiative, to the fact that the militia is running. And for me this is a kind of achieved result. I am sure that I am still ahead, because this is not the last election.
You see, today the matter is not at all in any specific personalities, not in the personal ambitions of any of the applicants. The event itself was important for our young republic. This is one of the signs of emerging statehood. In this election, people confirmed their May choice, and that in itself is good.